PREPARATIVE COSMETICS FOR FACE AND BODY
1. VICHY AQUALIA THERMAL
I bought this paraben free cream after summer vacation because I was attracted with the name its self. Since water is the basis for life, it only makes sense that a quality water source can influence the health of the body, including the skin which is the body's largest organ. Thermal water has been known to improve the condition of the skin, relieving irritation, redness and itching associated with minor skin conditions.
I spend my summer vacation at Island Susak (Croatia, Europe). It is practically desert island, only sand and sea, no asphalt or cars, pure nature as it is. Two weeks of sun, salt, sand and my skin is very thirsty. This rich but very light formula completely calmed my sensitive face skin, leaving it soft and balanced. Pure holy grail product!
2. BIOTHERM SKIN•ENERGETIC
Back in December of 2011, I discovered Biotherm in terms of using their products on my skin when I got free mini samples of Biotherm Skin Energetic Line. Shortly after, I bought them all. At that time, my skin was dried out and had a grayish tone. These products are insanely expensive, and also, the most expensive preparative or decorative products that I ever bought. Without any thoughts of regrets I would buy them again and again. This line is all about fighting fatigue and looking fresh.
Skin•Energetic Energy Up Complex Serum
To fight the most visible signs of fatigue, give your skin a new energy source – a powerful boost of moisture and radiance. Introducing Biotherm's anti-fatigue revolution: cosmetic activated at the last minute. Biotherm creates SKIN·ERGETIC, its 1st signs of fatigue repairing concentrate, to reduce visible signs of fatigue and fight against their appearance, all day long. A wake-up call for your skin: facial features appear smoother, and skin looks sublime. Complexion boasts strengthened radiance. Tested on sensitive skin.
1. Powerful Anti-Fatigue – The extract of the young shoot of Broccoli is one of the most powerful ingredients to protect the skin from tiredness. 
2. Innovation: Fresh Cosmetics – Preserved undamaged in the fresh capsule, all the power of the Broccoli is released in a single gesture, before the 1st use. Concentrate remains active for 3 months.
3. Maximum Efficacy – Removes marks of tiredness before they become visible signs of aging. Signs are visibly erased, complexion is smooth, skin is sublime.
The bottle is a nicely tinted green glass number, with a silver and white droplet applicator. It comes with the little white cap full of the Broccoli extract that you simply screw on and 'click'. The active ingredient is instantly dropped into the rest of the serum and you have 3 months of potent magic. This ensures nothing but the freshest product on to your skin, as a chemist, I love this step. This serum is also paraben free, mineral oil free, synthetic colorant free with star ingredients: Broccoli, Apple, Soy, Lemon, Sugar Cane..
Skin•Energetic Anti-Ox Complex Day Care
Biotherm creates SKIN·ERGETIC, its 1st non-stop anti-fatigue moisturizer with 5 fruit & vegetable extractions. A formula with an optimal anti-oxidant complex that reduces visible signs of fatigue. Results: signs of fatigue show less, even at the end of the day. Skin feels smoother, plumped with moisturiser. Visible fresh, radiant-looking complexion. Available in two formulations, normal & combination skin and dry skin. Tested on sensitive skin.
Skin•Energetic D-Tox Complex Night Care
Biotherm creates SKIN·ERGETIC NIGHT, its 1st overnight visible high-recovery moisturizer with 5 tea & seed fractions. A formula with a purifying complex that promotes the elimination of impurities generated by free radicals on the skin's surface and diminishes visible signs of fatigue. Results on waking: the facial features appear perfectly rested and smoother. Skin contours appear more refined. The complexion looks revived. Tested on sensitive skin.
It's hard to say exactly witch product did what to my skin because I used them EVERY DAY as a combination for about 3 months. Only thing I can affirm you is that my skin was alive, smoother, tighter, looked healthy, nourished and moisturized with glowing results. I'm 28 years old with normal but very sensitive skin that has tendency to dry out as winter comes along. I claim that my skin never look better, healthier, younger, fresher and firm as in period when I used a Biotherm Skin Energetic line.
3. SEPHORA SUPER SUPREME BODY BUTTER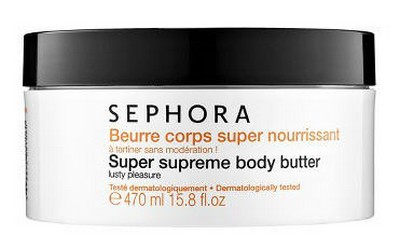 This is the one and only body butter that I'm using for almost two years now. I do believe that it's really an amazing product because as a beauty blogger I have a tendency to constantly try a different and new product, but I simply can not stop using this body butter. I even bought two replacement packaging when Sephora was closing back in August. Dermatologically tested and formulated without parabens. Oh my goodness! The packaging mentions "lusty pleasure" and it is! The texture is very thick, silky and smooth, ultra rich in Shea butter, melts on the skin for intense nourishment without leaving an oily film, it gets absorbed by the skin almost immediately and leaves your body feeling and looking hydrated all day. It really is amazing! The smell, oh la la, nothing sweet, no fruits, no candy, just pure freshness that reminds me a lot of Calvin Klein One perfume. Once again, an amazing product!
4. MELVITA ALGASCIENCE GOMMAGE CORPOREL ORGANIC BODY SCRUB
There is a body scrub and there is THE BODY SCRUB. This is The Body Scrub, that holy grail scrub that can scrub anything because it is a scrub with purpose of scrubbing. See how many word "scrub" did I used – because THIS scrub fully justifies the meaning of the word SCRUB! Originally it's made for us girls, made for our eternal fight against cellulite. I'm not a believer in 'anti cellulite products' but this scrub – I can only say – once tried and it's hard to find a replacement.
DECORATIVE COSMETICS
This was so hard, but these are my top 10 make up products in 2012. For each product I can say and truly believe that it's, in one word, amazing and for me THE BEST.
1. ESTEE LAUDER DOUBLE WEAR LIGHT FOUNDATION
Double Wear Light foundation has got to be one of the best foundations I have ever tried. It feels like and silky, full coverage, easy to work with. In the shortlist were also Dior Forever and Lancome Teint Miracle. All of this foundations are outstanding, but I ask my self for witch I reached when I have to look more formal and polished for all day events or a late evening board meeting after a hectic day. Light as air. Long-wear makeup, fresh, natural, comfortable, does not transfer on clothes. Goes on sheer, leaves skin free to breathe all day. Controls oil, resists smudging and won't 'melt' off through heat and humidity.
2. YVES SAINT LAURENT ROUGE PUR COUTURE GLOSSY LIP STAIN
The formula of this product is amazing. It lasts for hours, with no touching up needed! Even after eating, the color is still intact, even though some of the shine is gone. I don't even need a lip liner, because there is no feathering and the doe-foot applicator applies the color precisely. It is quite unlike any other product I've ever used before, because it maintains a very glossy look, despite the fact that it functions as a stain. I have never found a stain before that I like. If they are long-lasting, they are too drying and if they're not too drying, they don't have any staying power. My two shades are #10 and #19. Although this product is expensive, I would recommend it to anyone with all my heart.
3. YVES SAINT LAURENT VOLUME EFFET FAUX CILS SHOCKING MASCARA

A big dilemma with "mascara category", had to choose between YSL Shocking, Benefit They're Real, Diego dalla Palma Prima Visione and new L'Oreal False Lash Telescopic mascara. I don't know exactly how to describe why this mascara is my No. 1 because they're all great, but maybe the thing why I chose YSL's is because with the first layer of application it provides the perfect eyelashes. That's why this is my favorite in 2012! Its dramatic, long lasting, adds volume AND lengthens! Its an all rounder. There is nothing more I need from mascara.
4. L'OREAL COLOR INFALLIBLE EYE SHADOWS
First one I bought was #oo2 Hourglass Beige, and now I think I have 13 of them. My favorites are: #002, #012 Endless Chocolat, #015 Flashback Silver, #021 Sahara Treasure and #033 Tender Caramel. I must say this is the smoothest eyeshadow I've ever tried! With a gentle touch you can almost feel the product melt on your fingers, without disintegrating. When I first applied Color Infallible to my eyelids, I found that, if applied with a brush, the eyeshadow looses a lot of its color payoff and just leaves a sheer wash of color on the lids. Applied with the fingers, however, it changes to super pigmented, delivering a great thick layer of the product with one swipe across the lids. I was determined to test its water 'resistant-ness', so I swatched the eye shadows on my arm, put my arm in the sink and ran the tap for about 40 seconds over the eye shadows. I'm pleased to confirm that they did not fade or budge; somehow, they were even harder to remove after that! Very impressive stuff and I want them all.
5. MAYBELLINE  GEL EYELINER
For a while I had a love/hate relationship with this product because the first three times I used it, it transferred to my eye lids, though it was to creamy – but so well pigmented, easy to applied and amazing for water line. I continued to using it and now I'm obsessed with it. Two other amazing and very cheap, liquid, eyeliners are Essence Liquid Eyeliner (black – silver packaging) and Eveline waterproof Liquid Eyeliner. The reason that I preferred Maybelline's one is because I can do my water line and also for me it's a slightly nicer finish. I'm amazed with the brush that comes along because it's just the right thickness for my eye shape and I can do a cat eye in a second.
6. CATRICE LE FEMME FATALE CREAM TO POWDER BLUSH
The only bad thing is that this is a Limited Edition, in every other way this is an outstanding cream blush. Cheap, long lasting, not sticky because it's a cream to powder blush so the finish is powdery, natural pink – coral shade, easy to wear in every opportunity. Have so many blushes but at the end when I calculate all the above this one is my favorite.
7. BOURJOIS HELTHY MIX CONCEALER
The best drug store concealer at the moment, if I could have only one concealer this would be THE One.
8.RIMMEL KATE MOSS MATTE LIPSTICK
New lipstick in my collection is #111 Kisses of Life (second from right). Matte, long lasting, does not dried out my lips, amazing colors. This lipstick can stand shoulder to shoulder with any other high brand lipsticks. For under 50 HRK you will buy outstanding product.
9. ESSENCE COLOUR ARTS EYE BASE AND PIGMENTS
I looooove pigments and Essence is a very budget brand that produces some really awesome stuff so this is great news to me. Eye base is extremely good with pigments so there's no fall outs. Great range of shades, various finishes, goes on lips, nail and eyes, what's not to like?
10. MISSLYN FALSE EYELASHES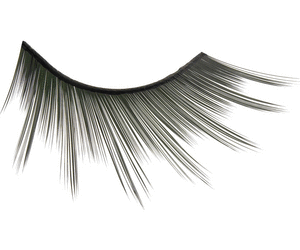 These are such great products, cheap, a good variety and since discovered I have no need to look any further.
Please, write in comment box bellow what are you beauty favorites in 2012. Thank you! LOVE,
Martina, Alter Ego Style

Related posts: