I decided to recreate one of my 'old but gold' look – red eyeliner. I wore this look very often in September. As I don't have a red eyeliner, I'm making it with water and my all time favorite red eyeshadow from Inglot No. 382. This is a super quick and a super easy make up look.
All you need to do is make your skin look flawless, with NO redness at all, use neutral colors of eye shadows to define your eyes, create a straight red line, black mascara. Go easy on your cheek, highlight your skin where needed, and then decide what to do with your lips. I usually, depending of an opportunity, goes with three tones – nude, pink and red.
Hope you like this.
Before, no make up:
SKIN
I used Dior Forever foundation No.030, Estee Lauder concealer in Light, Too Faced blush in Cocoa Rose, Pupa Bronze Powder No. 01, Loreal Lumi Magique Base primer as a highlighter.
EYES
Too Faced duo eyeshadow in Sexpresso & Peach Fuzz, Inglot 382 matte eyeshadow from free system palette, Diego dalla Palma Prima Visione black mascara, Essence white pencil, Loreal Color Infaillible No. 002
BROWS
Catrice Eyebrow set and Stila brush No. 10
LIPS
Look 1 – Estee Lauder Rouge Volupte No. 24 Praline Delight, Lancome Lip Gloss No. 308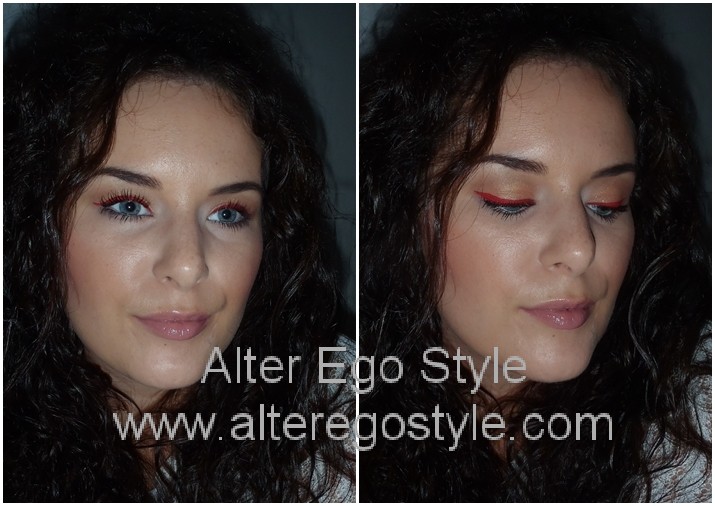 Look 2 – Too Faced Glamour Gloss in Peek-a-Boo
Look 3 – Max Factor Lipfinity Lasting Lip Tint No. 06, Estee Lauder Lip Gloss Pure Color Brazen Berry No. 04
How often do you wear colors on your eyes? How do you like these looks? Is this tutorial helpful enough or you need more steps and details?
Martina, Alter Ego Style.

Related posts: