Necessary things:
White paint for the face (I used Fantasy Make Up Aqua Express) White hair spray Styrofoam cone that I transformed with a knife into an unicorn horn White glitter White cotton Pritt stick glue False eyelashes (Misslyn #38 & Catrice LE) Black liquid eyeliner, black eyeshadow, various grey eye shadows, black mascara (anything like what you have available at home – I used lot from e.l.f cosmetics) Several brushes, I used no name brushes for kids watercolors Hairspray  
How to do a horn:
At Chemaco, Hobby Art Shop (Vukovarska 226, Zagreb, Croatia) I bought this Styrofoam cone. Take a knife or a scissors an give it a rough shape of a horn that you want. Then use a glue stick and plain it all over the horn and stick a white cotton. Give your horn a spiral line with an eyeshadow. Sprinkle with glitter, spray it with a hairspray and leave it to dry.
Make up:
Set your eyebrows with a glue stick, or any other method that you like. White out your face completely, make it opaque and flawless as possible.  Your neck should be also white, but do it less opaque so the chest can easily be blendable with you skin tone. Use a white hair spray, and spray your hair that frames the face. Then take a glue stick and white cotton, put a little glue to the skin and tap a cotton to stick to it. Areas that should be covered with cotton are frame of your face, ears, neck and collarbones. Make it messy, random and fluffy.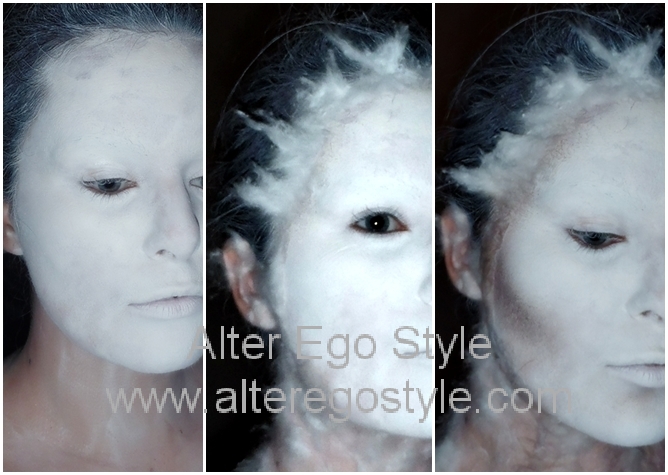 (sorry for the spooky middle photo – flash went wild from all the whiteness :/)
Start with contouring your cheeks, nose, temples, neck, under your lips, use a gray eyeshadow to do that. Then make a rough shape above your eyes, don't worry about details and tidiness because the priority is to do a roughly shape of the whole face, and then you can step back from the mirror and see better what part should be darker. It is always easier to put some more colors on, right?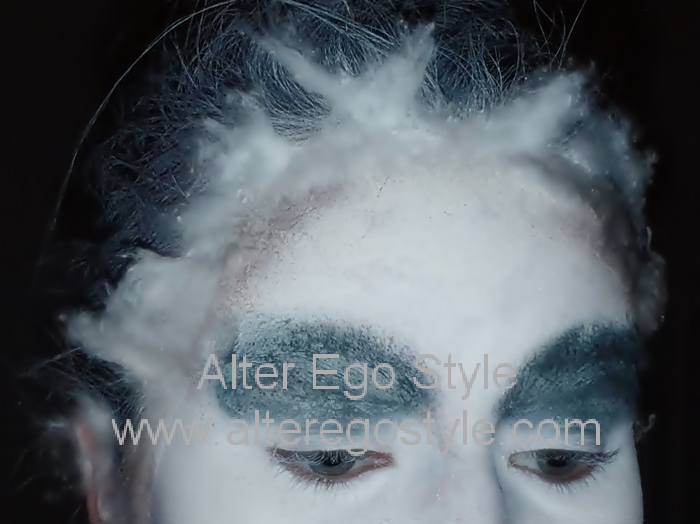 Take a black liquid eyeliner and draw a thick line on your upper lash line, smudge this line and blend it into a rough shape that you made above your eyes before. After this it is all about your taste, how dark you'd like your eyes to be, what shape, etc.  I extended my eyes as much as I possibly could, and put a two pair of false eyelashes. In the picture below is first pair of false eyelashes – Misslyn #38, and on a final photo you can see the second one – Catrice Spring 2012 LE false eyelashes.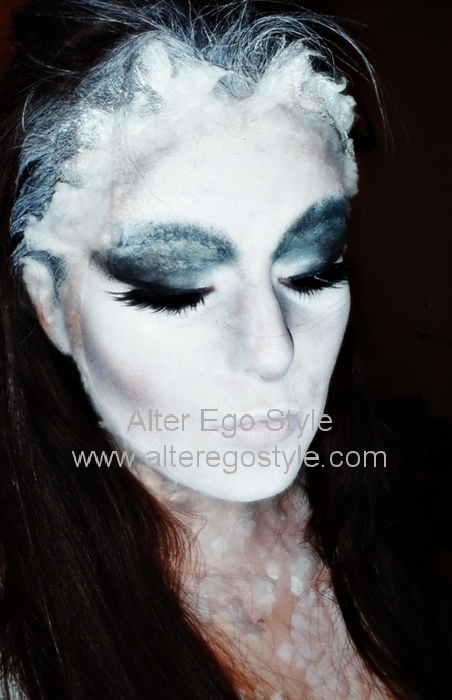 The last needed are the snowflakes and glitter. To do this snowflakes I used a pattern that I bought at Lumos Hobby Art (Petrinjska 31/1, Zagreb, Croatia) and some of the snowflakes I draw on my own. Lot's of glitter (that isn't visible of the photos :/), make your own hairstyle that will best suit to your face shape and you're done. Hehhehe,  and don't forget to glue your horn, I used a lot of Finger's glue for eyelashes to stick this thing on.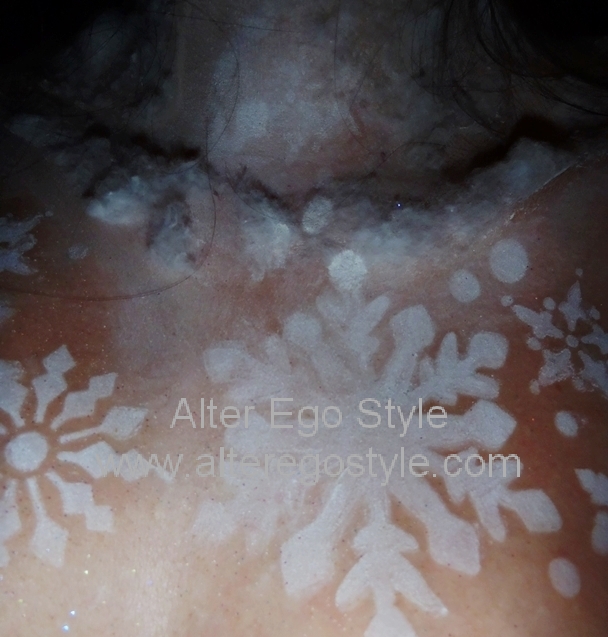 What to wear?
You will need 3 hours to complete this look, good luck, and send me a photo if you decide to recreate this Fantasy Unicorn.
Love Martina, Alter Ego Style

Related posts: