S obzirom da Halloween, odnosno noć vještica, u Hrvatskoj još uvijek nije poprimio 'veselje i običaje' kao npr. u SAD-u, mnoge djevojke bi napravile nešto drugačije, ali ne otišle u ekstreme maskiranja. Ovo je tutorial kako jednostavno, bez ikakve dodatne kupovine napraviti 'nešto drugačije'.
Potrebno vam je:
puder
crni tuš
crno mat sjenilo ili ono koje ima šljokice u sebi
maskara
rumenilo
bronzer
korektor
smeđe mat sjenilo
ruž / sjajilo
škare
crni flomaster
deblji papir
Nacrtajte na debljem papiru (ako nemate, može i običan) 2 'Batman Logo-a' (ako ne znate iz glave, potražite na internetu slikicu), izrežite i obojajte s jedne i druge strane u crno.
Kada ste to napravile krenite sa šminkom. Iscrtajte ombre obrve. Ja sam koristila tamno smeđe (MAC espresso) sjenilo i crni Eveline tuš. Nakon toga krenite tušem ispunjavati kapak i iscrtavati batman oblik krila na kapcima. Kada ste napravile jedno oko, gledajući u ogledalo, probajte što točnije preslikati dizajn na drugi kapak. Smjernice naka vam budu vaše zjenice, rubovi oka, obrve, bitno je da nađete fokus i posložite 'špice krila' približno jednako. Ako pogriješite ne brinite, obrišite štapićem za uho ili kistićem na koji ste nanijele korektor. Kada ste zadovoljne, nanesite crno sjenilo na vaš dizajn. Uz liniju donjih trepavica i produžetak krila nanesite smeđe sjenilo s kojim ste ispunjavale obrve. Maskara u crnoj boji. Prethodno napravljene slikice batman loga nalijepite na krajeve donjih trepavica pomoću vrlo malo ljepila za umjetne trepavice. Pazite, ljepite na trepavice i dovoljno je uhvatiti 2 trepavice, ako vam to nije ugodno ili se bojite, nalijepite slikicu na parcijalnu umjetnu trepavicu i onda nju zalijepite uz donje trepavice. Obrišite sjenilo s obraza i podočnjaka koje je palo tijekom nanošenja i nanesite puder. Korektorom popavite nepravilnosti. Napravite konturu lica, nanesite rumenilo, ruž ili sjajilo i to je to!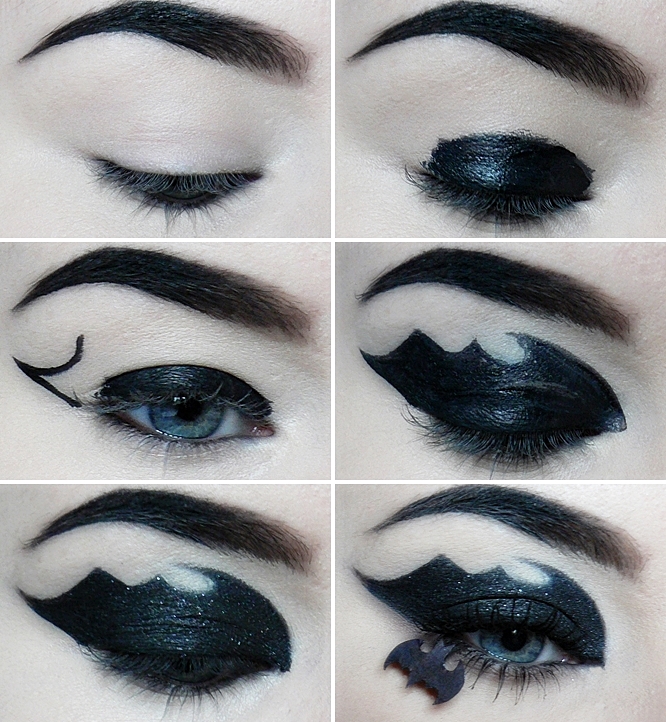 LICE:
MAC Full Coverage Foundation
NARS Laguna Bronzer
MAC Love Joy Mineralize Blush
Max Factor Puff Powder
OČI:
Eveline tekući crni tuš
Artdeco sjenilo No.310
Chanel Le Volume crna maskara
MAC Espresso sjenilo
USNE:
Chanel Rouge Coco Lipstick No.02 Perle
Too Faced Glamour Gloss – Peek-a-Boo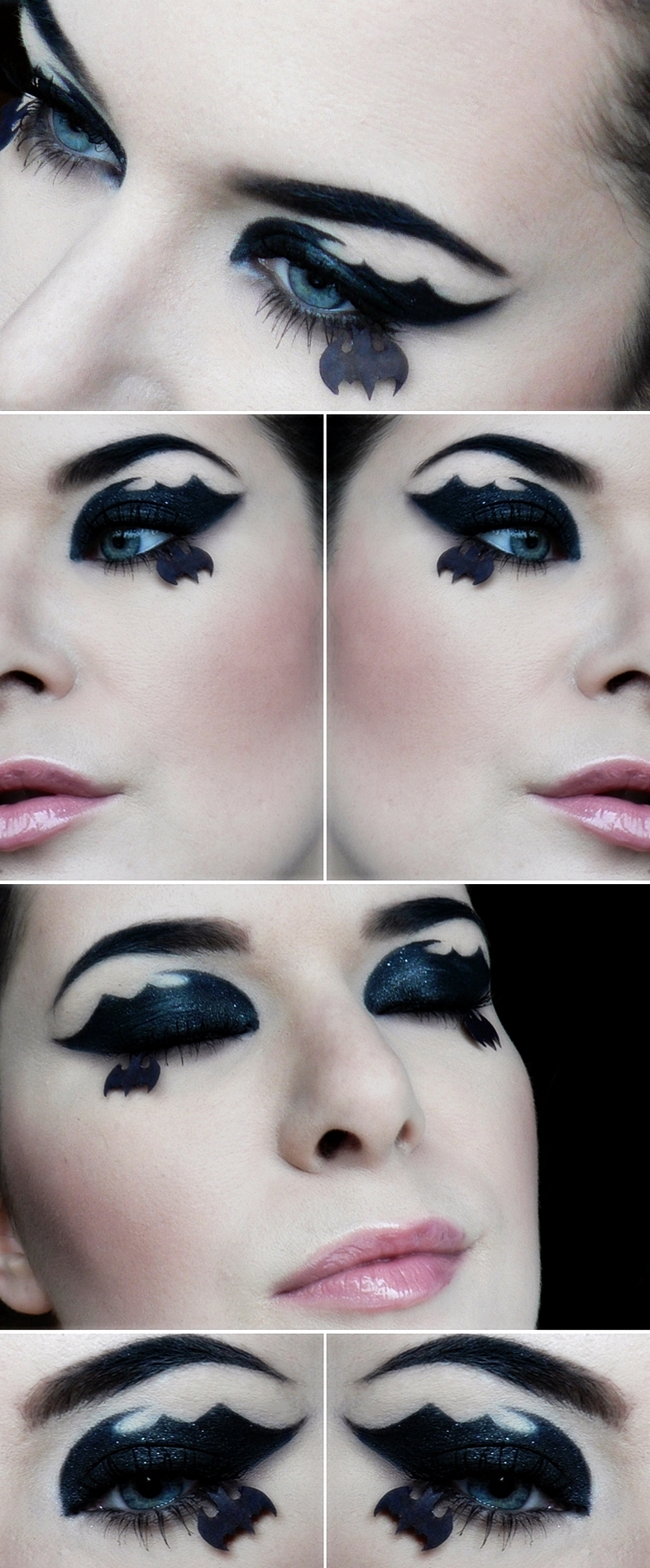 Kako ćete se maskirati za Halloween? Da li volite izaći na noć vještica ili ne?
Martina, Alter Ego Style

Related posts: