Oldies but goldies, Kenzo Amour lansiran je još 2006. godine, no meni i dalje jedan od interesantnijjih mirisa za zimski period. Zanima li vas što se to skriva u ovom ljubavnom i aromatičnom putovanju kroz Aziju?
Kenzo Amour na policama parfumerija privlači pogled svojim interesantnim i svojstvenim dizajnom bočice koji je meni, iako prekrasan i vrijedan spomena, nekako nepraktičan. Naime, začepiti bočicu nekad je pravo umijeće, tim više jer moja bočica ima neku grešku pa čep, niti kad je u pravilnom položaju, ne sjeda lako.  Osim ove mane korištenje mirisa je pravo zadovoljstvo i dovoljno je reći da mi je ovo treća bočica.
Gornje note: riža, bijeli čaj
Srednje note: suncokret, cvijet divlje trešnje, plumeria
Bazne note: vanilija, drvenste note,  tamjan, mošus
Parfem u sebi sadrži neke od najznačajnih nota Azija; japanski cvijet divlje trešnje, kineski bijeli čaj i mliječnu tajlandsku rižu. Ovaj vrlo dugotrajan parfem u svojim prvim minutama zaista otpušta jednu zadivljujuću kombinciju svježine i slatkoće u koju se nakon nekog vremena ušulja predivna i potpuno nježna cvjetna čarolija. Kada se ove esencije stišaju uzdiže se vanilija, tamjan i mošus koji ovom mirisu pružaju dubinu i tajanstvenost. Romantika, senzualnost, sreća i mističnost prve su riječi kojima bih opisala ovaj jedinstven parfem, idealan za noć, zavođenje, ali i grijanje u ovim zimskim danima.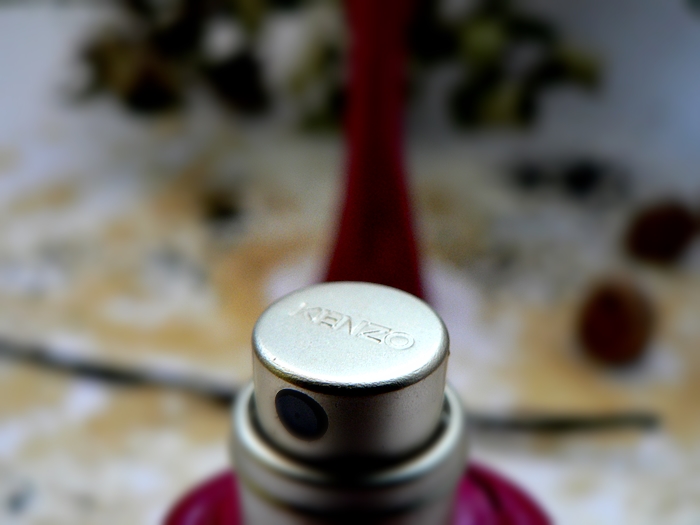 Kreatori ovog mirisa, poznati su dvojac Daphne Bugey (Issey Miyake L`Eau d`Issey Une Goutte de Nuage, Thierry Mugler Mirror Mirror Collection – Miroir des Voluptes,…) i jedan od The Nose u svijetu parfema Olivier Cresp (kreator mog omiljenog Givenchy Ange Ou Demon, Dior Midnight Poison, Thierry Mugler Angel, Cacharel Noa, i mnogih drugih čarobnih esencija).

Ovo je nota koja mi uvijek donese kompliment na račun mog mirisa, bilo od žena ili muškaraca. Mnogima interesantan miris, topao i senzualan, jedan od onih koji ne bi trebali zaobići dok tražite vama najdraži zimski parfem.
Miris se skriva u tri bočice i tri nijanse – 30 ml (bočica boje fuksije), 50 ml (bijela bočica) i 100 ml (narančasta bočica).
Dijelimo li ljubav prema ovom parfemu ili imate drugog favorita iz Kenzo mirisnog svijeta parfema?
Martina, Alter Ego Style

Related posts: