L'Oreal Professional have recently launched the expanded collection of the Mythic Oil and program now includes Oil Mythic, Mythic Oil Milk, Mythic Oil rich oil for dry hair and indomitable, Mythic Oil sheen colored hair, Mythic Oil Shampoo and Mythic Oil Masque.
In general, I really like the professional lines, although they are more expensive, they do give the results with less amount of products and therefore they last much longer.
As my hair is curly, long and dry I believed that Mythic Rich Oil is made for me. It comes in hard, transparent, gold plastic packaging of 125 ml, best to use within 18 months from opening.
The oil itself is clear, refined and utterly lightweight, with a very slippery, runny consistency and a silky texture that is velvety to touch. Smell is so beautiful, fresh and a bit floral. This oil is enriched with Rice Bran oil and Argan oil.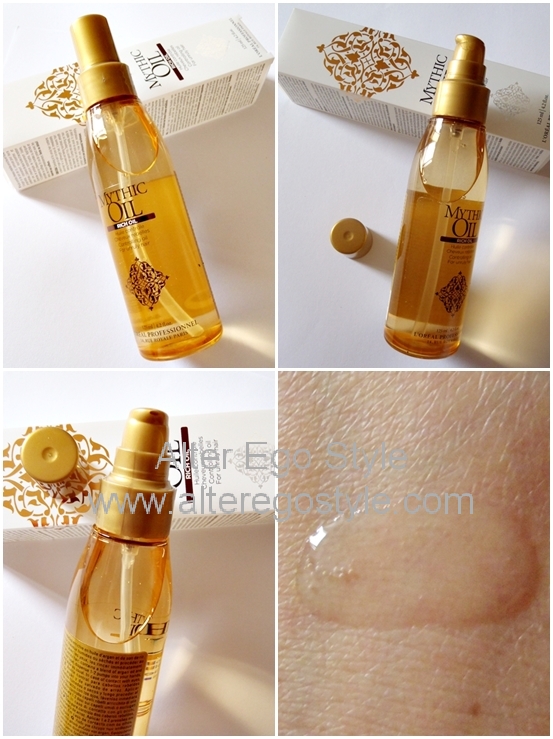 L'Oreal Professionnel claims that this Mythic Rich Oil can be used as a pre blow-dry conditioner on shampooed, towel-dried hair, for easier styling and added control, or as a luxe finishing touch for an anti-frizz taming effect. Results are anti-frizz saviour offers nourishment, discipline and anti-frizz protection. I would say that this oil does all off that and leaves your hair silky soft, healthy shine, non greasy and with beautiful scent that is entirely delicate, subtle and yummy.
After I wash my hair, I put a Mythic Oil Masque and leave it for about 5 minutes. The mask alone is a thick as a body butter, has identical wonderful smell like the oil. When rinsed my hair, I noticed a big difference, my hair was smooth and soft and it is combed with finger. As always, I towel dry my hair and I used three pumps of oil.
After blow drying, and styling my hair with a flat iron I use again the Mythic Rich Oil, but this time just one pump. Here are the results, upper two photos are hair after ironing using a mask and oil before, and lower two photos are finish results with that one pump of oil at the end. They aren't photoshoped!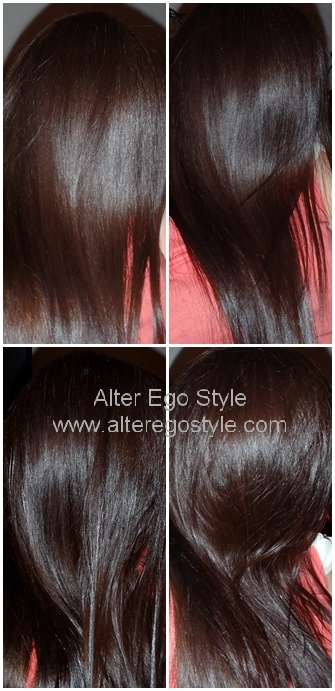 I would certainly recommend this oil as a great product to everyone who's hair is dry, with no definition, frizzy and with no control. Also I have to say that my friend has really oily hair, she tried this product, loved it and said that her hair wasn't greasy at all after using it.
In Croatia, you can find this L'Oreal Professionnel hair line in hair salons. Check for them here.
Martina, Alter Ego Style.

Related posts: