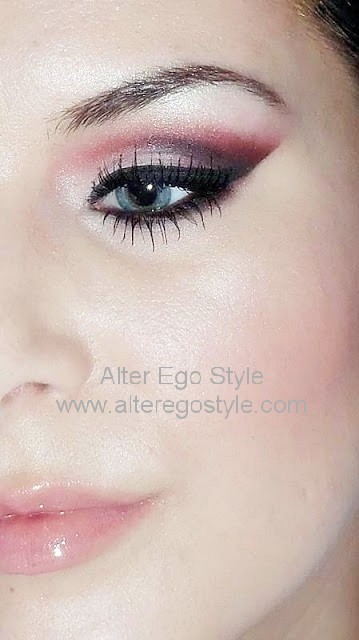 This is a very simple technique with which you can achieve an extreme precision.
If you want to do this Look, choose the shades that will best emphasize your eyes. My suggestions are here.
I used:
FACE
Foundation Lancome Teint Miracle No. 03
Concealer Estee Lauder Double Wear Stay-in-Place No. 01 light
Blush Pupa Luminous Touch Blush No.. 05
Illuminateur Pupa – Pupa Make Up Book Once Upon A Time
EYEBROWS
Brown shower cream in Sephora palette
EYES
(in order of use)
Shades range from Sephora Make Up Palette (F5, A1, H12, A6)
Essence black liquid eyeliner
L'Oreal Jet Set Black -Black Pencil
Pupa Polvere Di Luca No. 04 – Sequins
They're Real Benefit Mascara
LIPS
Alverde Lipliner No. 19 Terra
Dior SparkleShine Glitter Top Coat Lip gloss
If you are interested in more details click here.
Begin by perfecting the skin. Apply primer (if you desire), foundation and concealer as needed. Neutralize the redness on your face if you are using red shades of eyeshadows.
If desired, use clean fingertips to apply lid primer to the eyes to extend the life of your eyeshadows. Paste a Scotch tape or Sellotape to the desired line.
Follow by applying a red eyeshadow (or any other shade) to the lids using a soft eyeshadow brush. I used Sephora brush No. 25.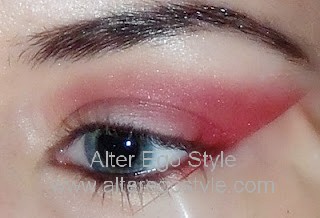 Apply a lighter shade in the inner corner of the eyelids, and a darker shade to the outer "V". I used Ivory and Black.
Line the upper lash line with black eyeliner (liquid, cream, what ever you like).
Remove the tape.
For a stronger definition, I love lining the lower inner rims with black liner and applying a dark shade to the lower lash line.
Apply a few coats of black mascara to the lashes and define the brows with brow powder and an angle brush. A smooth brow frames the face and opens the eyes.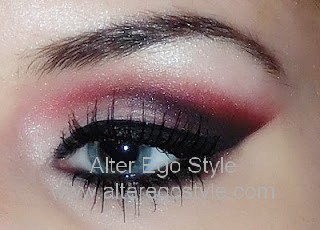 Apply a cream or powder blush to the apples of the cheeks and bring color to the face with a warm rose – nude shade of lip liner and follow with matching gloss, if desired.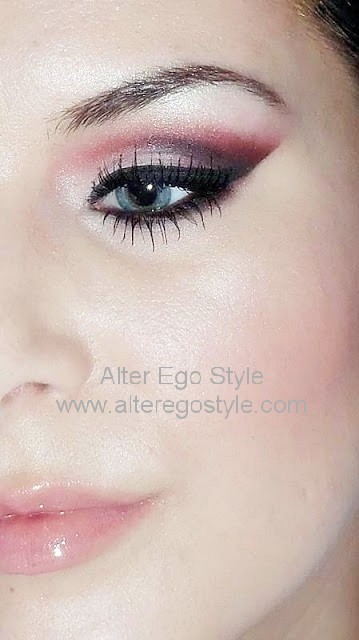 How do you like this tutorial? Have you tried to do something similar? Write your wishes, suggestions and criticisms.
Martina, Alter Ego Style

Related posts: