*This is a free PR sample – tester packaging (2,5ml)
PROS:
+ Intense black
+ Very pleasant on the eyes
+ Lasts all day without smudging
+ Perfect texture, neither too dry nor too wet
CONS:
– too big brush = too many products (if you do not remove the excess product and apply mascara in speed you'll get sticky eyelashes and mascara all over the eyelids)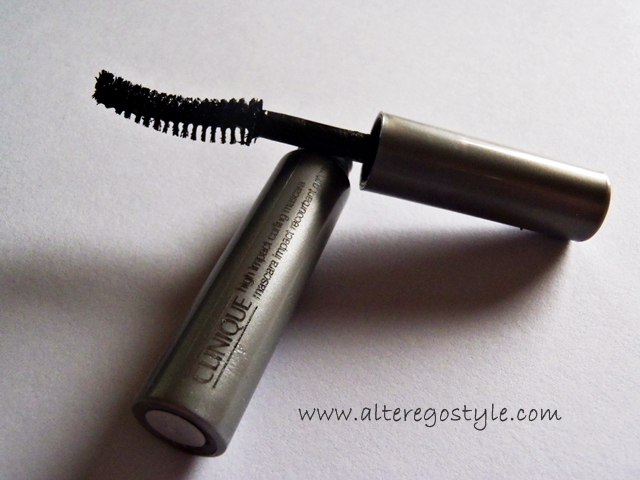 On first application I despised it, as the formula is very thick it made my lashes clump together like nothing else I have ever seen! I have a real love/hate relationship with this one:
1. Because of the thick formula, you have to make sure all excess product is off the wand, and even then have to be extremely careful not to apply it too heavily, but then the appears is like most high street brand mascaras – simple day look lashes.
2. If you go straight from the tube you can pull OK look for lashes but it takes forever to get them like that and it will get all over your eyelids.
I didn't think that this mascara did a lot for me.  I did not notice any thickening of my lashes nor did it provide a huge amount of curl for me (but I can not say for sure because my lashes are naturally curled).  In terms of curl I think it did just as much as a mascara that does not have a curved brush.  Personally I don't think that a mascara with a curved wand makes your lashes more curved than a mascara with a non-curved brush, but that's just me.  I don't think I would buy this mascara.
Overall I'll say 6/10.
Martina, Alter Ego
Pozitivne strane:
+ intenzivno crne boje

+ vrlo ugodna na očima

+ traje cijeli dan i ne razmazuje se

+ savršena tekstura, ni presuha ni premokra

+ vrlo se lako skida toplom vodom u obliku "gumenastih komada"
Negativne strane:
– prevelika četkica na kojoj ostaje previše proizvoda zbog čega, ukoliko ne uklonite višak i nanosite maskaru u brzini,  trepavice su sljepljene i maskare ima svuda po kapcima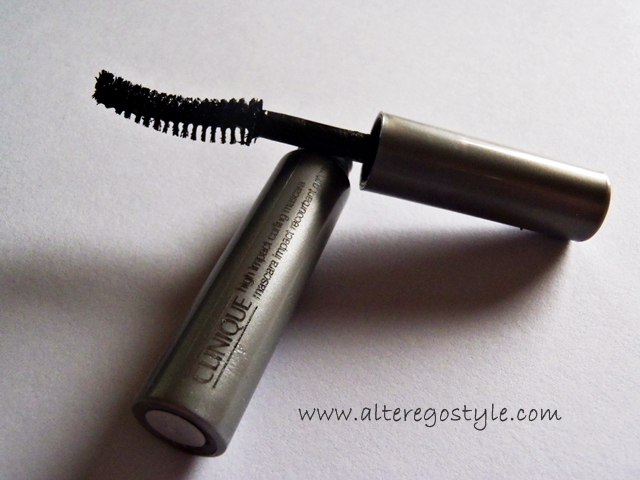 Mogu reći da sam nakon dugo vremena naišla na proizvod koji istodobno volim i dobim slom živaca prilikom nanošenja. Naime, da je četkica ravna i malo manja ova maskara bila bi mi čisto zadovoljstvo. No međutum, ukoliko obrišete višak maskare s četkice gubite i dramatičan izgled vaših trepavica, koje istina, možete lijepo razdvojiti, ali i dobiti dnevni look koji postižete skoro svakom drogerijskom maskarom. Ukoliko ne obrišete višak maskare:
1. Možete zaboraviti na drugi sloj jer riskirate sljepljene trepavice u 90% slučajeva.
2.Već prvim nanosom na trepavicama se nalazi toliko proizvoda koji s puno češljanja trepavica možete prekrasno rasporediti i dobiti zaista divno definirane i crne trepavica, ali istodobno i totalno uneređen kapak. Maskara se vrlo lako skida pa pomoću štapića za uši i malo odstranjivača za šminku u tren imate čisti kapak, no briga nastaje ukoliko imate prekrasno sjenilo koje ste blendali 5 minuta prije toga 🙁

Ovako izgleda na očima nakon jednog sloja i kao takva mi se najviše sviđa:
Volim Clinique, ali ovaj proizvod savršene formule i teksture dobiva ocjenu 6/10 ssamo zbog četkice koja jednostavno uništava doživljaj ove maskare. Što se tiče uvijanja trepavica, teško mi se osvrnuti na tu temu jer su moje trepavice prirodno uvinute.
PR Sample
Martina, Alter Ego Style