DRAW THE LINE
If you want your eyeliner to look smooth and professional, it is helpful to have some eyeliner tips and tricks in your sleeve. Depending on where you are going as well as the look that you want to create, there are many different ways to apply eyeliner. Maybe the most creative picture that I've found online is the picture below with a whole range of different LOOKS you can create using only eyeliner. So, is it eyeliner THE beauty item You should have in your make up bag? – I definitely think it is! Liquid Eyeliner is about as essential as the Red lipstick. I believe every woman should own at least one of each. They are as aesthetically pleasing as they are transformative. It's a quick and easy way to change your entire look. One little line can pick your eyes right up!
TYPE OF EYELINERS and WHAT TYPE OF EYELINER IS RIGHT FOR ME?
Liquid
Liquid eyeliner generally comes in a tube with a brush that pulls out with the liquid on it. Another popular form of liquid eyeliners are pen liquid eyeliners. This is the most difficult liner to apply. You need a steady hand and practice, practice, practice. For beginners and people who are struggling with eyeliners – start at the middle of the eye, directly above the upper lashes, and slowly brush across the lash line. Then, start at the inner part of the eye and continue to brush until you reach the middle of your eye. Tip that can also help you is apply liquid liner by brushing short strokes close to the lash line and then connect them to the fine line.
Liquid eyeliner is known for its speed and accuracy, once you've become accustomed to it. It leaves very defined, even line in one swipe. Because of the packaging of liquid eyeliners, there is no need to worry about sharpening, retracting, or brush cleaning.
The downside to liquid liner is if a mistake is made it is difficult to fix it. If you are new to liquid liner you may find useful to erase your mistakes with cotton swabs (Q-tips) soaked in makeup remover. Also, you shouldn't apply a liquid eyeliner on you rim/water line.
A couple of liquid eyeliners to recommend: Essence liquid eyeliner, Eveline Liquid Eyeliner. It's really hard for me to recommend any other liquid eyeliner since I think that these two eyeliners are amazing, price is under 30 HRK (like 3 euro) and you get everything you need! If you really want to spend a lot of money for an eyeliner I would highly recommend a Shiseido Pen Liquid Eyeliner because it is, in one word, perfection.
Pencil Eyeliners
This is the most commonly used liner as it is very easy to manage and control. Pencil eyeliners are just like any other pencil that you sharpen when needed. Whether they are wooden pencils that require sharpening, or retractable pencils that raise and lower similar to lipstick, pencils create a smooth line with little effort. To apply, you simply "draw" on the line close to your lash line.
If you would like to have a color on your waterline, these are generally the best type to use. You do need to look for ones that are tested by an ophthalmologist in order to prevent irritation in the eye.
They are very easy to control, comes in a wide range of colors, very common and easy to find in every brand of makeup.
The downside is unless you sharpen really well, they do not provide a crisp line. Also, pencil eyeliner isn't known for its staying abilities, as it has a tendency to smudge quite easily.
The best eyeliner pencils for me are from Artdeco Cosmetics! They are middle priced but outstanding.
Eyeshadows for Eyeliners
This is the fastest and easiest way to line your lashes. All you need is a stiff, angled brush or a pencil brush. To apply, simply dip your brush into the eyeshadow of your choice and "draw" or smudge along the upper and/or lower lash line. You cannot use this on your waterline because it will not stick, and it will really irritate your eyes.
Eyeshadow lining is great for a more subtle daytime look. Plus, the color possibilities are endless! Tip – You could even use the pencil brush to smudge the eyeshadow on top of another eyeliner to get rid of any harsh lines.
Also another Tip for this type of eyeliner routine is – dip your WET brush into the eyeshadow, it will last much longer and it will appear much more alike to original liquid eyeliner look.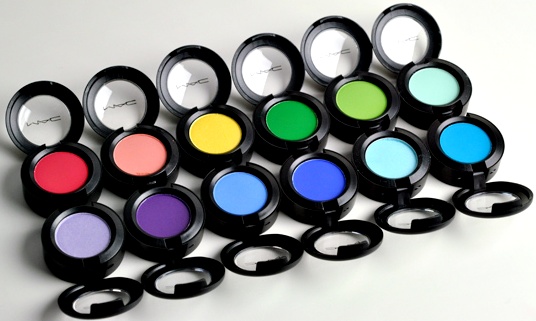 Gel and Cream Eyeliners
This type of eyeliners has been used more by professional makeup artists than the mainstream public, but it is becoming more common. Cream eyeliners generally come in a pot that you can dip an angled brush, fine tip brush, or even a pencil eyeliner in to get the product out. It can even be used as a creamy base underneath eye shadows.
If you use a brush to apply, you will need a slightly steady hand as it is creamy and glides pretty easily. Since this liner takes a bit longer to dry, it is great for smudging along the lash line or (Tip) if you have feeling like it's too creamy and smudgy you can save you look by applying black matte eyeshadow over your line.
Gel Eyeliners stay on the waterline the longest of all, they are very intense and don't irritate the eyes.
Do not leave the cap off your cream or gel eyeliner for a long period of time, as it will dry out.
To recommend: Maybelline Eye Studio Drama Gel Eyeliner, MAC Fluidline, Bobbi Brown Gel Eyeliner, Inglot AMC, Essence and Catrice.
HOW TO
Here is a very simple and quick tutorial on how to use a gel eyeliner as a base!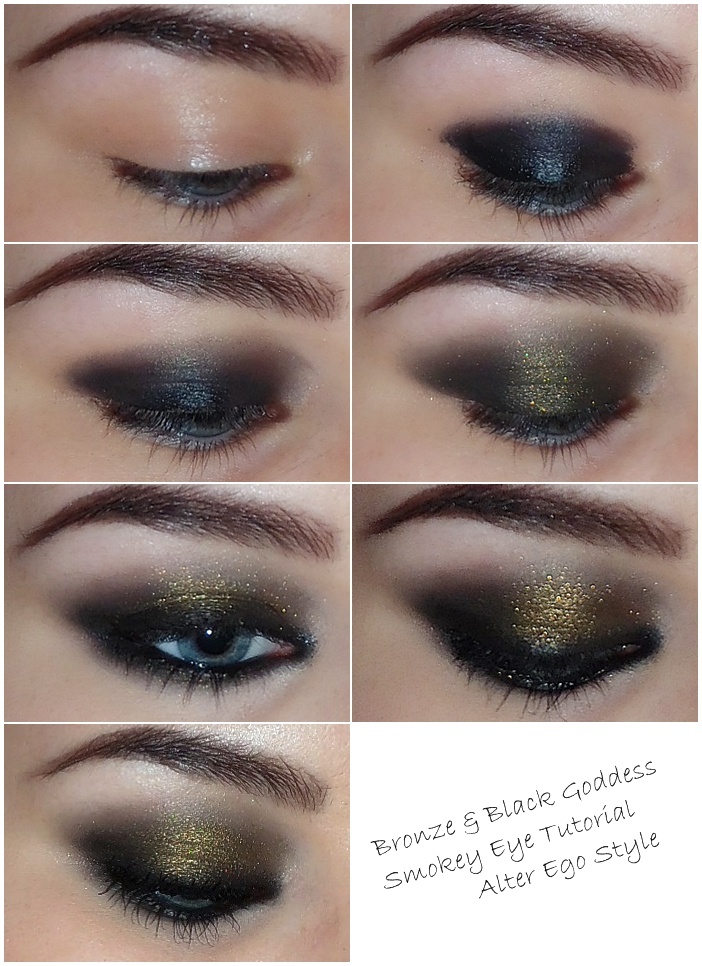 For this Eye Look I used only 5 make up items:
1. Start with applying
Essence Colours Arts Eye Base
2. Dip a rounded Essence purple eyeshadow brush into
Maybelline Studio Drama Black Eyeliner
and apply it all over the eyelids to the crease 3. With soft blending brush (Sephora No. 13) blend the edges, it doesn't have to be perfect, you just need to remove the hard edges 4. Apply
L'Oreal Color Infaillible Eyeshadow in # 040 Cosmic Black
on top of the gel eyeliner using eyeshadow brush (I used very cheap eyeshadow brush from Muller) 5. Blend the edges with clean blending brush 6. On the center of the eyelids apply another
L'Oreal Color Infaillible eyeshadow in #024 Bronze Goddess
. Since these two eye shadows are very similar, they blend very well and gives magical appearance to your eyes 7. To give more definition, apply gel liner to both water lines and what's left on the brush (Maybelline brush that comes along with Gel eyeliner), brush through upper and lower lash line 8. Two coats of black mascara, I used
L'Oreal False Lash Telescopic
, and you are good to go. You don't have to worry about you make up cause this stays like that as long as you needed    
How to do a cat eye.
                                                                                       izvor slike Pinterest
Tip on how to do even lines is: follow you lower lash line and just extend that line. That is how you will end up with same cat flick on both eyes.
Tip – If you have a problem with smudging, your eyeliner does not last as long as you want or you want a perfection always use eye base then, apply eyeshadow, eyeliner, fix eyeliner with eyeshadow while it's wet/creamy and it is set for hours.
For short time I had a love-hate relationship with Maybelline Eye Studio Drama Gel Eyeliner because it was so creamy it transfered on my eyelids and got smudges everywhere. Then I tried to use it with Essence Colours Arts Eye base, since then this is my favorite eyeliner. Before I used a lot of eyeliners – L'oreal, Essence, Catrice, Max Factor, Sephora, Manhattan, Shiseido, Collistar, etc. but at the end I came back to Essence Liquid Eyeliner. Just while ago I discovered Eveline Liquid eyeliner. Both of these liners, as I mentioned before are very cheap and amazing. The main reason why I do now prefer Maybelline eyeliner more then Essence or Evelin is because gel eyeliners have a nicer finish for my taste and they look very intense on waterline.
If I remember something else I'll amend this post, also if you have questions or suggestions write me in the comments below. I hope this was helpful.
Martina, Alter Ego Style

Related posts: