DRAW THE LINE
If you want your eyeliner to look smooth and professional, it is helpful to have some eyeliner tips and tricks in your sleeve. Depending on where you are going as well as the look that you want to create, there are many different ways to apply eyeliner. Maybe the most creative picture that I've found online is the picture below with a whole range of different LOOKS you can create using only eyeliner. So, is it eyeliner THE beauty item You should have in your make up bag? – I definitely think it is! Liquid Eyeliner is about as essential as the Red lipstick. I believe every woman should own at least one of each. They are as aesthetically pleasing as they are transformative. It's a quick and easy way to change your entire look. One little line can pick your eyes right up!
NACRTAJ LINIJU
Kako bi Vaš tuš za oči izgledao što profesionalnije potrebno je imati nekoliko asa u rukavu. Ovisno o prilici i izgledu koji želite postići, možete koristiti različite vrste tuševa za oči, pomagala kao i samih mogućnosti. Vjerojatno najinteresantnija slika koju sam mogla naći na internetu upravo je ova ispod koja prikazuje raznovrsnost LOOK-ova koje možete postići koristeći tuš za oči. Prema tome, da li je taj proizvod potreban u svakoj kozmetičkoj torbici? – ja bih rekla da je i to podjednako kao i crvenu ruž. Jedna linija može promijeniti cijeli oblik oka, a tko ne voli brzu i jednostavnu transformaciju?!
TYPE OF EYELINERS and WHAT TYPE OF EYELINER IS RIGHT FOR ME?
Liquid
Liquid eyeliner generally comes in a tube with a brush that pulls out with the liquid on it. Another popular form of liquid eyeliners are pen liquid eyeliners. This is the most difficult liner to apply. You need a steady hand and practice, practice, practice. For beginners and people who are struggling with eyeliners – start at the middle of the eye, directly above the upper lashes, and slowly brush across the lash line. Then, start at the inner part of the eye and continue to brush until you reach the middle of your eye. Tip that can also help you is apply liquid liner by brushing short strokes close to the lash line and then connect them to the fine line.
Liquid eyeliner is known for its speed and accuracy, once you've become accustomed to it. It leaves very defined, even line in one swipe. Because of the packaging of liquid eyeliners, there is no need to worry about sharpening, retracting, or brush cleaning.
The downside to liquid liner is if a mistake is made it is difficult to fix it. If you are new to liquid liner you may find useful to erase your mistakes with cotton swabs (Q-tips) soaked in makeup remover. Also, you shouldn't apply a liquid eyeliner on you rim/water line.
A couple of liquid eyeliners to recommend: Essence liquid eyeliner, Eveline Liquid Eyeliner. It's really hard for me to recommend any other liquid eyeliner since I think that these two eyeliners are amazing, price is under 30 HRK (like 3 euro) and you get everything you need! If you really want to spend a lot of money for an eyeliner I would highly recommend a Shiseido Pen Liquid Eyeliner because it is, in one word, perfection.
Pencil Eyeliners
This is the most commonly used liner as it is very easy to manage and control. Pencil eyeliners are just like any other pencil that you sharpen when needed. Whether they are wooden pencils that require sharpening, or retractable pencils that raise and lower similar to lipstick, pencils create a smooth line with little effort. To apply, you simply "draw" on the line close to your lash line.
If you would like to have a color on your waterline, these are generally the best type to use. You do need to look for ones that are tested by an ophthalmologist in order to prevent irritation in the eye.
They are very easy to control, comes in a wide range of colors, very common and easy to find in every brand of makeup.
The downside is unless you sharpen really well, they do not provide a crisp line. Also, pencil eyeliner isn't known for its staying abilities, as it has a tendency to smudge quite easily.
The best eyeliner pencils for me are from Artdeco Cosmetics! They are middle priced but outstanding.
Eyeshadows for Eyeliners
This is the fastest and easiest way to line your lashes. All you need is a stiff, angled brush or a pencil brush. To apply, simply dip your brush into the eyeshadow of your choice and "draw" or smudge along the upper and/or lower lash line. You cannot use this on your waterline because it will not stick, and it will really irritate your eyes.
Eyeshadow lining is great for a more subtle daytime look. Plus, the color possibilities are endless! Tip – You could even use the pencil brush to smudge the eyeshadow on top of another eyeliner to get rid of any harsh lines.
Also another Tip for this type of eyeliner routine is – dip your WET brush into the eyeshadow, it will last much longer and it will appear much more alike to original liquid eyeliner look.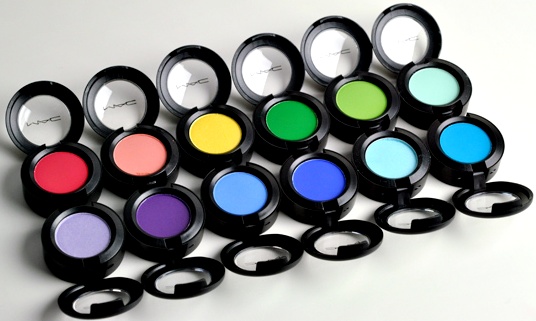 Gel and Cream Eyeliners
This type of eyeliners has been used more by professional makeup artists than the mainstream public, but it is becoming more common. Cream eyeliners generally come in a pot that you can dip an angled brush, fine tip brush, or even a pencil eyeliner in to get the product out. It can even be used as a creamy base underneath eye shadows.
If you use a brush to apply, you will need a slightly steady hand as it is creamy and glides pretty easily. Since this liner takes a bit longer to dry, it is great for smudging along the lash line or (Tip) if you have feeling like it's too creamy and smudgy you can save you look by applying black matte eyeshadow over your line.
Gel Eyeliners stay on the waterline the longest of all, they are very intense and don't irritate the eyes.
Do not leave the cap off your cream or gel eyeliner for a long period of time, as it will dry out.
To recommend: Maybelline Eye Studio Drama Gel Eyeliner, MAC Fluidline, Bobbi Brown Gel Eyeliner, Inglot AMC, Essence and Catrice.
HOW TO
Here is a very simple and quick tutorial on how to use a gel eyeliner as a base!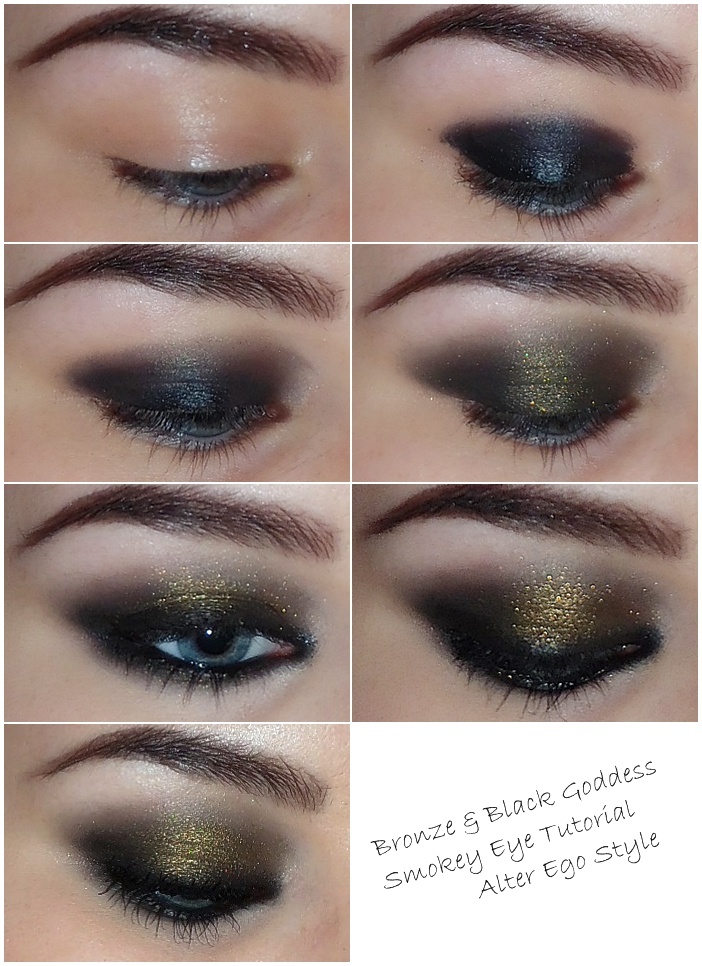 For this Eye Look I used only 5 make up items:
1. Start with applying
Essence Colours Arts Eye Base
2. Dip a rounded Essence purple eyeshadow brush into
Maybelline Studio Drama Black Eyeliner
and apply it all over the eyelids to the crease 3. With soft blending brush (Sephora No. 13) blend the edges, it doesn't have to be perfect, you just need to remove the hard edges 4. Apply
L'Oreal Color Infaillible Eyeshadow in # 040 Cosmic Black
on top of the gel eyeliner using eyeshadow brush (I used very cheap eyeshadow brush from Muller) 5. Blend the edges with clean blending brush 6. On the center of the eyelids apply another
L'Oreal Color Infaillible eyeshadow in #024 Bronze Goddess
. Since these two eye shadows are very similar, they blend very well and gives magical appearance to your eyes 7. To give more definition, apply gel liner to both water lines and what's left on the brush (Maybelline brush that comes along with Gel eyeliner), brush through upper and lower lash line 8. Two coats of black mascara, I used
L'Oreal False Lash Telescopic
, and you are good to go. You don't have to worry about you make up cause this stays like that as long as you needed    
How to do a cat eye.
                                                                                       izvor slike Pinterest
Tip on how to do even lines is: follow you lower lash line and just extend that line. That is how you will end up with same cat flick on both eyes.
Tip – If you have a problem with smudging, your eyeliner does not last as long as you want or you want a perfection always use eye base then, apply eyeshadow, eyeliner, fix eyeliner with eyeshadow while it's wet/creamy and it is set for hours.
For short time I had a love-hate relationship with Maybelline Eye Studio Drama Gel Eyeliner because it was so creamy it transfered on my eyelids and got smudges everywhere. Then I tried to use it with Essence Colours Arts Eye base, since then this is my favorite eyeliner. Before I used a lot of eyeliners – L'oreal, Essence, Catrice, Max Factor, Sephora, Manhattan, Shiseido, Collistar, etc. but at the end I came back to Essence Liquid Eyeliner. Just while ago I discovered Eveline Liquid eyeliner. Both of these liners, as I mentioned before are very cheap and amazing. The main reason why I do now prefer Maybelline eyeliner more then Essence or Evelin is because gel eyeliners have a nicer finish for my taste and they look very intense on waterline.
If I remember something else I'll amend this post, also if you have questions or suggestions write me in the comments below. I hope this was helpful.
Martina, Alter Ego Style
VRSTE TUŠEVA ZA OČI i KOJI JE VAŠ TIP TUŠA ZA OČI?
Tekući tuš za oči
Tekući tuševi za oči najčešće dolaze u ambalaži male bočice koja na svom čepu ima postavljenu četkicu umočenu u tekući tuš, iako, mnogi Make Up brendovi danas rade tekuće tuševe i u formatu olovke / flomastera. Ovaj tip tuša za oči najteže je nanijeti, potrebna vam je stabilna ruka i puno, puno vježbanja.
Za početnike, krenite od sredine kapka prema vanjskom kraju oka slijedeći liniju trepavica, a zatim se vratite u unutarnji kut i spojite liniju s početnom točkom. Možda se pitate zašto je bolje krenuti od sredine? Iz jednostavnog razloga, vaš kistić u početku sadrži naviše tekućine na sebi i teško ćete postići tanku i preciznu liniju u samom unutarnjem kutu oka ako na kistiću imate previše tekućeg tuša.
Trik koji u startu pomaže mnogima: iscrtajte male linije uz samu liniju trepavica i na kraju ih spojite u jednu ravnu liniju.
Jednom kada naučite potezati uredne linije uvidjeti ćete da tekućim tuševima možete najbrže iscrtati liniju već iz jednog poteza, brzo se suše na kapcima i ostavljaju čistu, jednoličnu crtu. Još jedna pozitivna stavka je da možete zaboraviti na šiljilo, čišćenje kistića i druge finese.
Negativnosti tekućih tuševa: jednom kada pogriješte teško možete ispraviti grešku. Dok vježbate možete si pomoći pamučnim štapićima za čišćenje uha i odstranjivačem šminke. Umočite štapić u odstranjivač i obrišite grešku. Također tekuće tuševe nemojte nanositi na vodenu liniju! Ukoliko volite nježnije linije, blago razmazanog dojma onda ova vrsta tuša nije za vas.
Preporuka: Essence i Eveline tekući tuš. Zaista mi je teško preporučiti bilo koji drugi tuš za oči, iako ima odličnih tuševa i u drugim Make Up brendovima, no ukoliko uzmem u obzir količinu, kvalitetu i cijenu ovo su najbolji tekući tuševi za oči. Ako želite svejedno preporuku savršenog i skupljeg tekućeg tuša, tada bih rekla da u životu nisam probala bolji tuš od Shiseido Pen Liquid Eyeliner-a.
Trik: ukoliko vam se ne sviđa četkica koja dolazi u paketu s tekućim tušem, uvijek možete na ruku obrisati tuš s četkice, svojim omiljenim kistom ga pokupiti i nanositi na kapak.
Olovke u funkciji tuša za oči
Tuš u obliku olovka je vjerojatno načešći i najlakši izbor, te osim rijetko strogih i definiranih linija moguće je postići upravo one smokey dojma. Tuš olovke vrlo su slične običnim olovkama za oči, mogu se šiljiti ili biti na automatsko izvlačenje/uvlačenje. Jednostavne su za nanošenje, najbolji su izbor ukoliko se želite igrati bojama na vodemoj liniji, ali su isto tako najpoznatije po svojoj (ne) dugotrajnosti.
Svaki Make Up brend ih proizvodi te se mogu naći u najširem cjenovnom rangu, dostupne su mnoge boje, mekše i tvrđe, no osim već navedene mane o dugotrajnosti treba imati na umu da ukoliko jako dobro ne našiljite olovku, jako ćete teško postići oštru liniju, ali i vrlo lagano se razmažu i preslikaju na kapku.
Trik: kako bi produžili dugotrajnost olovke uvijek možete nanijeti sjenilo na nju ili ispod nje bazu za oči.
Preporuka: probala sam olovke različitih proizvođača, ali moram priznati da sam se pronašla najzadovoljnija s Artdeco Waterproof Eyeliner olovkama.
 Sjenila u funkciji tuša za oči
Najbrži, najjednostavniji i najsuptilniji način naglašavanja linije trepavica. Sve što vam je potrebno je sjenilo po izboru i čvrsti, kosi kist ili 'pencil' kist (npr. MAC 219). Uhvatite sjenilo kistom, otresite višak sjenila i kistom slijedite liniju trepavica.
Trik koji možete iskoristiti ako želite postići tuš efekt i dugotrajnost: nanesite sjenilo mokrim kistom, pri tome obrazite pozornost da mokri kist ne stavljate u sredinu sjenila već uz neki rub jer se često taj dio sjenila uništi, odnosno nije više praškast – ali vam i dalje može služiti za mokre kistiće!
Obrubljivanje oka sjenilom idealno je za nešto suptilnije, dnevne look-ove. Mogućnosti su beskrajne, na vama je da se poigrate i nađete vama odgovarajuću nijansu.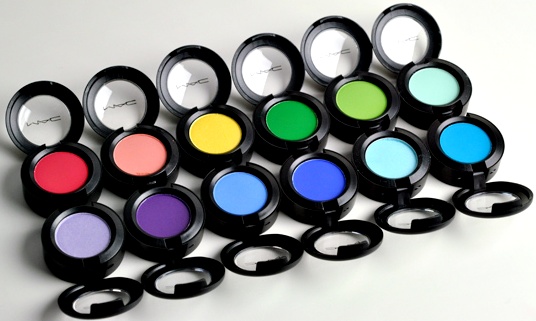 Gel i kremasti tuševi za oči
Od ove godine postali su moji favoriti zbog raznolikosti u korištenju. Koristim ih kao tipične tuševe, baze za smokey eye, za sam smokey eye, za cut crease look, imitaciju sjenila, na vodenoj liniji… Jednostavno sam oduševljena samom formulom. Iako je ova vrsta tuševa za oči nekada bila rezevirana za profesionalce, postali su sve dostupniji i skoro svi Make Up brendovi ih imaju u ponudi. Često dolaze u plastičnoj ili staklenoj kutijici s poklopcom. Kako se ne bi kremasta formula brzo osušila, potrebno je imati na umu da ih se nakon svake primjene dobro zatvori te da općenito ne budu dulje 'na zraku' od potrebnog.
Za nanošenje potreban vam je kistić, bilo kutni, kistić za tuš, kist za sjenila,… ovisno koju tehniku želite postići. Uz svoj jaki pigment, odnosno intenzitet nijanse, lakoću formule, mogućnost nanošenja na vodenu liniju rekla bih i da su mu pozitivne strane još i raspon iscrtavanja od veoma precizne linije pa sve do veoma smokey linije.
S obzirom da ovi proizvodi imaju kremastu formulu, potrebno im je nešto više vremena da se osuše i treptanjem ne preslikaju na kapak. Ukoliko ste u žurbi ili ste kupili jeftiniji gel tuš za oči koji nikako da se osuši, predložila bih vam da svakako stavite bazu za sjenila prije nanošenja tuša. Jedna koje se pokazala savršenom u obavljanju ovog posla je Essence Colours Arts baza za oči. Još jedan proizvod s kojim si možete uskočiti u pomoć je sjenilo u odgovarajućoj nijansi koje nanosite na liniju tuša kako bi ga fiksirale.
Preporuke: Maybelline Eye Studio Drama Gel Eyeliner, MAC Fluidline, Bobbi Brown Gel Eyeliner, Inglot AMC, Essence i Catrice.
KAKO
Ovo je jednostavan tutorijal za veoma efektan smokey make up: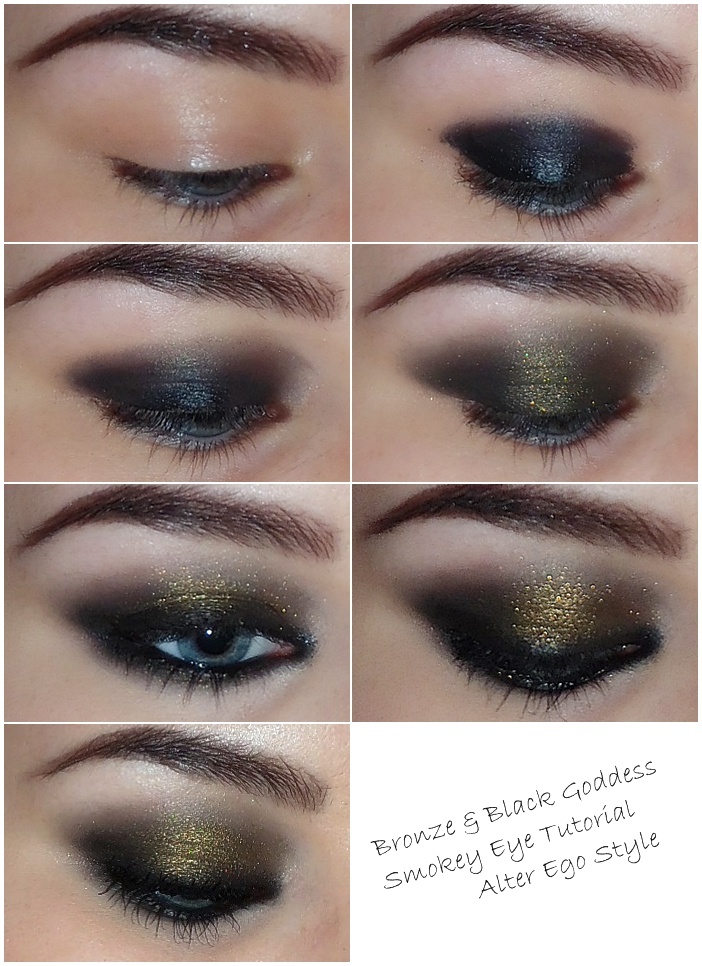 Koristila sam svega 5 dekorativnih proizvoda:
1. Nanesite bazu za sjenila na cijeli kapak – 
Essence Colours Arts Eye Base
2. Uhvatite malo
Maybelline Studio Drama Black Eyeliner
na okrugli Essence ljubičasti kist za smokey eye i nanesite ga na kapak sve do pregiba 3. Mekim kistom za blendanje (Sephora No. 13) pređite preko rubova kako bi ih ublažili, ovaj korak ne treba biti savršen 4. Nanesite
L'Oreal Color Infaillible Eyeshadow  #040 Cosmic Black
na prethodno razmazani Maybelline tuš 5. Dobro izblendajte rubove 6. Na centar kapka nanesite 
L'Oreal Color Infaillible eyeshadow #024 Bronze Goddess
. 7. Kako bi postigli dodatnu definiranost oka, nanesite tuš na vodenu liniju (gornju i donju). Ono malo proizvoda koje ostane na kistu razmažite uz gornju i donju liniju trepavica – kist koji sam koristila je onaj dobiven uz kupnju gel eyeliner-a 8. Dva sloja crne maskare, ja sam koristila
L'Oreal False Lash Telescopic
, i spremne ste za izlazak u kojem ne trebate brinuti za šminku na očima jer ona ostaje takva koliko god vam je potrebno.    
Kako napraviti cat eye.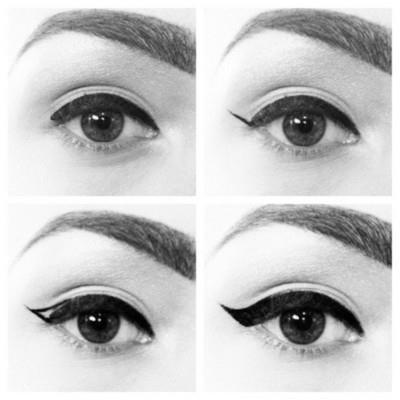 Trik kojim ćete postići jednak kut na oba oka: jednostavno produljite liniju donjeg kapka, neka ta linija definira kut vašeg mačjeg oka.
Narednih mjeseci jedino koristim Maybelline Eye Studio Drama Gel Eyeliner koji naprosto obožavam. S obzirom na njegovu kremastu formulu stavljam ga isključivo na spomenutu Essence bazu. Na taj način on izdrži u istom obliku i po 12h.
Koji su vaši omiljeni tuševi za oči, imate li vi neki poseban trik ili savjet?
Martina, Alter Ego Style