As I was watching some of the new campaigns for upcoming A/W 2012, I notice that in the center, both Dior and YSL have that khaki note.
Dior Golden Jungle, Fall 2012
Since they released the first  5 Couleurs Designer Eyeshadow Palette, my thought was that this is the ultimate eyeshadow palette because it contains all that you need for your eye make up except the mascara.
This is the Khaki Palette – khaki, gold, brown, beige, champagne; the other 5 Couleur Designer Palette is Golden Savannah that contains gold and brown shades.
(I already done a look using the 5 Couleurs Designer Eyeshadow Pallete.)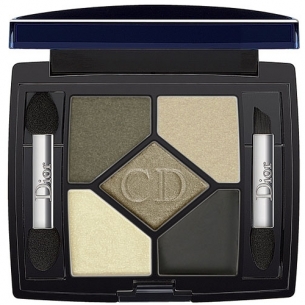 Dior Three Eyeshadow Palette in Ivory Glow and Nude Glow
Golden Khaki – golden beige, olive green and khaki eyeshadow plus a pink lip gloss
Golden Brown – golden beige, caramel and dark brown eyeshadow plus a copper-pink lip gloss
Dior blush in Sunkissed Cinnamon – natural nude pink and Sugar Spice – wild pink with gold pearl.
For Lips and Nails Dior made some amazing shades.
Lipsticks in 646 Wild -copper brown with gold accent, 816 Instinct – rose brown, 852 Fatale – vibrant red and 962 Daring – burgundy.
Nail polishes in Amazon – khaki, Bengal – brown and Golden Jungle Duo Dior Vernis – gold enamel and khaki crocodile crackle top coat.
Photos of Dior.
Yves Saint Laurent, Fall 2012
Pure Chromatics 4 Wet & Dry Eyeshadow Palette
No.10 – white, gold, green and khaki (metallic shades) and No.11 – brown, beige, navy blue (matte shades)
Dessin du Regard Eye Pencil in No.13 Saharan Bronze and No.19 Graphite Green
Mascara Volume Effet Faux Cils Shocking in No.01 Deep Black and No.03 Bronze Black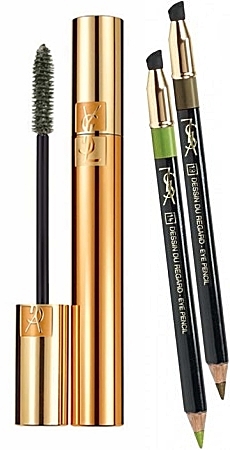 Rouge Pur Couture The Mats Lipstick  in No.203 Rouge Rock – inspired by Queen, No.201 Orange Imagine – inspired by The Beatles, No.02 Roze Crazy, No.204 Rouge Scandal, No.205 Prune Virgin and 206 Grenat Satisfaction – inspired by The Rolling Stones
Palette Couture Highlight Powder Features 3 new shades Nude Pink, Golden Beige and Rosy Brown
Dare to Glow Highlighters- Limited Edition in No.01 Tempting Gold, No.02 Fatal Red and No.03 Naughty Pink
Le Tient Touche Eclat Foundation comes in 20th anniversary packaging with 16 shades available in the U.S. while in Europe there is a range of 22 colors from pink beige to golden beige. In Croatia, I'm not sure how we stand.
La Lacque Couture Nail Lacquer  in No.32 Rouge Expressioniste and No.31 Khaki Arty
Photos of YSL.
What do you think about these collections? Do you like the khaki makeup trend? I'm hoping I will be able to track down some drugstore dupes for some of these shades, but if you know of any please let me know in the comments below!
Martina, Alter Ego Style