Have I mention before how much I love Sephora??? Well, I DO! Maybe, my best store for this type of purchases and 90% of my make up collection is from Sephora.
So, Two Faced cosmetics! Amazing stuff, love the product, love the packaging and the best of all is that there is a SALE going on at Sephora – 50% off on specific Two Faced products. I picked up two eye shadows and one lip gloss.
Two Faced Exotic Color – Petals to the metal is a beautiful mono eyeshadow that is very similar to MAC Club Eyeshadow, if not identical.
It's an intense eyeshadow, very strange color, like there is some brown, warm base with green reflection, very pigmented, long lasting and silky formula.
The packaging is plastic, but it seems strong enough and very girly, it has a shape of the flower, black with a little pink, I like it very much.
It contains 1,7 g of the product and it is best to use within 12 months from opening.
Two Faced Eye Shadow Duo – Sexpresso Peach Fuzz
This is very natural duo palette. I believe that these shades are the must have of every make up bag.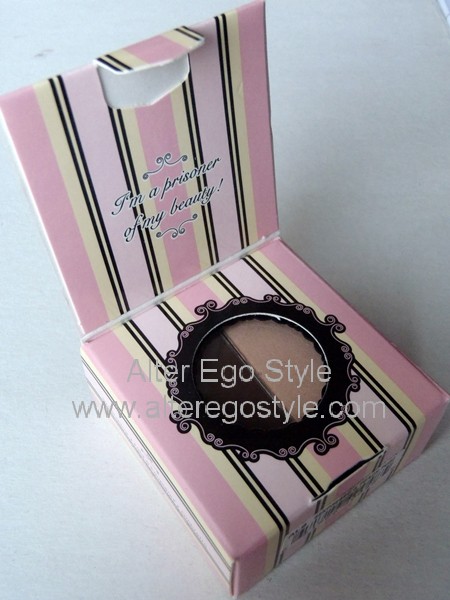 Brown eyeshadow is a matte shade of a very natural dark brown that enhance blue eyes so perfectly, and a lighter shade is silky and sparkly, peachy vanilla tone with warm gold reflection, beautiful color that opens your eyes. Both shades are extremely pigmented and long lasting.
The packaging is also hard plastic and very Too Faced – I'm a prisoner of my beauty it said, the design reminds me of the women's bathroom, the 60's, wallpapers – pink, light yellow, I don't know why, but it does.
It contains 2,5 g of the product and it is best to use within 12 months from opening.
Two Faced Glamour Gloss – Peek-a-Boo is a volumizing lip gloss with lip injection comfort plump.
Stay Kissable – Infused with a breath- freshening burst of mint so you're always make-out ready! Stay Plumped – enriched with our exclusive "Lip Injection Comfort Plump" to enhance your kisses. Stay Moisturized – natural vitamin E & rice lipids keep lips soft, smooth and sexy.
The color of this lip gloss is very nude with a lot of illuminated particles witch you don't feel at your lip. The formula is a bit sticky, but I don't mind, and the last thing that I have to say is that this lip gloss gives you a cooling effect to your lips, like a mint, so if you don't like that, you ain't gonna like this lip gloss too.
It's not tested on the animals, contains 3,6 ml and it is best to use within 12 months from opening.
Martina, Alter Ego Style