Another cheap and chic, limited edition product, cream to powder blush from Catrice – C01 A WOMAN'S WORLD.
It's a super bright pink-red shade and as soon as you swatch it, you can see that it's a lot more wearable than it looks in the pan, giving you a very natural, fresh look. You can also build it up to achieve an intense color, but it is easy to apply a sheer layer for everyday.
The consistency is very much a cream-to-powder formula, so despite being a cream, it can actually feel a tiny bit drying on the skin if you're prone to dryness but overall… it's simply stunning.
As always from CATRICE, the packaging is simple and transparent – easy to be found in your make up bag. It contains 3.5 grams and it is best to use within 12 months of opening.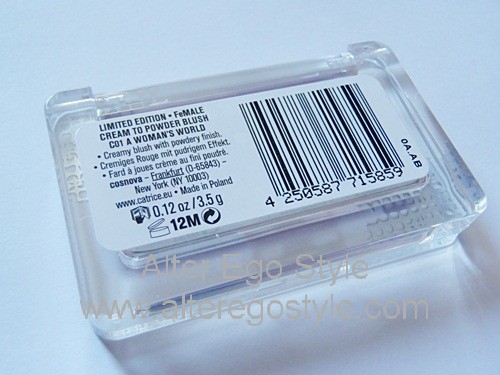 Catrice Cosmetics in Croatia, is sold only in drugstores Kozmo and Muller. The price of this blush is  4 euros.
Martina, Alter Ego Style
Još jedan jeftin i odličan proizvod, proljetnog limitiranog izdanja, dolazi od kozmetičkog brenda CATRICE – cream to powder blush C01 A WOMAN'S WORLD.
Divna, svijetlo rozo-crvena nijansa, koja je puno lijepša na licu nego u pakiranju. Vašem licu dati će vrlo prirodan, svjež izgled. Također ju možete postepeno izgraditi kako bi se postigla intenzivnija boja, dok je u blagom sloju idealna za svaki dan.
Tekstura samog proizvoda je kremasta, ali na licu se pretvara u suh, neprimjetan prah čime ćete izbjeći onaj  pretjerano mastan izgled lica. Rezultat je jednostavno zapanjujuć.
Pakiranje je plastično, ali čvrsto, jednostavno i prozirno što Vam omogućava da ga brzo pronađete u svojoj kozmetičkoj torbici. Sadržaj je 3,5 grama i najbolje ga je upotrijebiti unutar 12 mjeseci od otvaranja. Cijena ovog proizvoda je 28,90kn.
Catrice kozmetiku, u Hrvatskoj, možete kupiti u Muller i Kozmo drogerijama.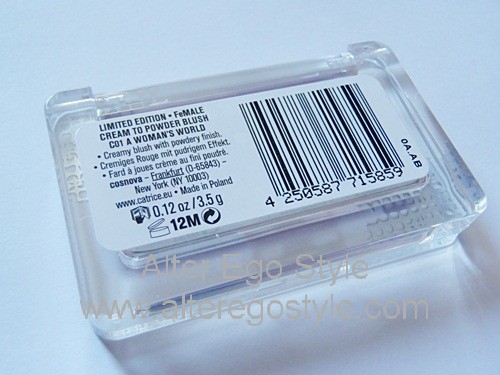 Da li znate za još koje prodajno mjesto Catrice kozmetike? Kako Vam se sviđa rumenilo i što mislite o ovoj jeftinom brendu?
Martina, Alter Ego Style