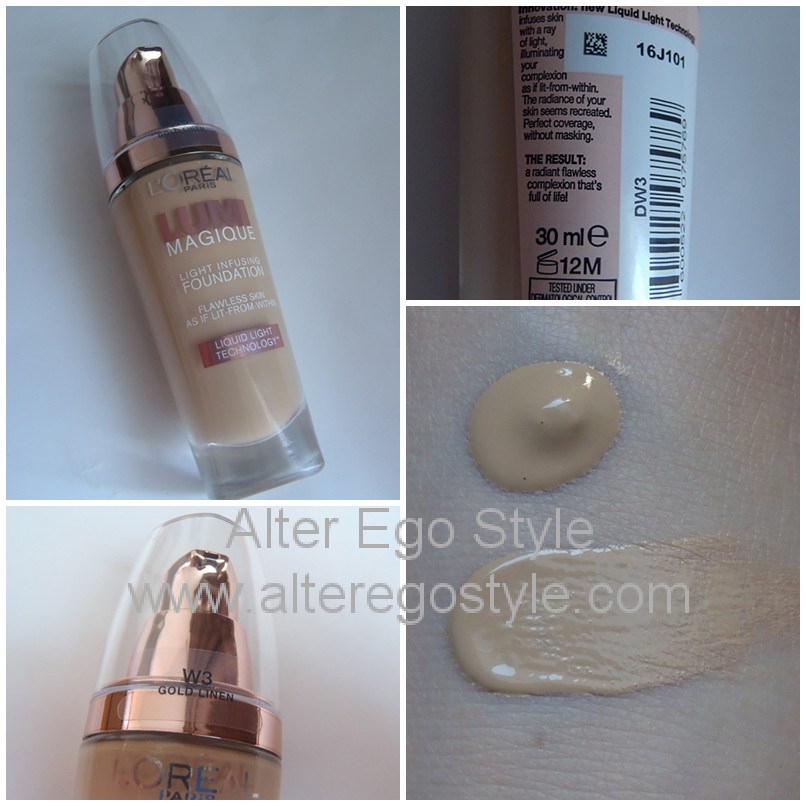 I've recently been trying out this new foundation by L'Oreal called Lumi Magique. This is a medium coverage foundation that has a luminous, glowing finish, quite similar to Chanel Vitalumiere. This type of finish is really my favorite at the moment, because to me it looks the most like natural skin.
Glass bottle with rose – gold details, simplicity that is very faltering to the eyes. You'll have 12 months from opening to use 30 ml of this product, witch is a standard content for the most foundations on the market. Pump dispenser is easy and mess-free and it's a big plus for me because i really hate to buy foundations without pump dispensers.
The formula is so nice, light and creamy, leaves your skin very soft and gives you a fresh, dewy glow to your skin without adding any shimmer or sparkle. It can be mattified with a powder if you want to tone down the luminous finish.
This is not a long wear foundation, but it wears well on me for an acceptable length of time. I believe that this foundation is best suitable for dry to normal skin, and not so much for oil skin because it can look to glowing and simple oily.
As for the shades, very limited color range (at least here in Croatia). The limited color range means it might be very hard for some to find a good match, especially fair skin tones.
Overall I like this foundation and think it's a great purchase from the drugstore if you can find a match. If you're lucky enough to fall within L'Oreal's rather narrow color range and you like a dewy finish, I definitely recommend checking it out. If you have oily skin or live in a tropical climate, I would probably stay away.
In action, shade W3 Gold Linen.
Have you already try this foundation? Pros and Cons?
Martina, Alter Ego Style

Related posts: