L'Oreal Professional have recently launched the expanded collection of the Mythic Oil and program now includes Oil Mythic, Mythic Oil Milk, Mythic Oil rich oil for dry hair and indomitable, Mythic Oil sheen colored hair, Mythic Oil Shampoo and Mythic Oil Masque.
In general, I really like the professional lines, although they are more expensive, they do give the results with less amount of products and therefore they last much longer.
As my hair is curly, long and dry I believed that Mythic Rich Oil is made for me. It comes in hard, transparent, gold plastic packaging of 125 ml, best to use within 18 months from opening.
The oil itself is clear, refined and utterly lightweight, with a very slippery, runny consistency and a silky texture that is velvety to touch. Smell is so beautiful, fresh and a bit floral. This oil is enriched with Rice Bran oil and Argan oil.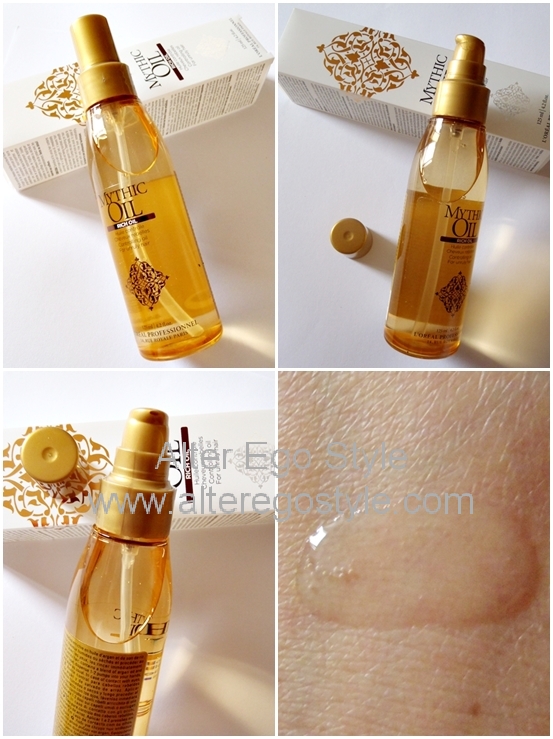 L'Oreal Professionnel claims that this Mythic Rich Oil can be used as a pre blow-dry conditioner on shampooed, towel-dried hair, for easier styling and added control, or as a luxe finishing touch for an anti-frizz taming effect. Results are anti-frizz saviour offers nourishment, discipline and anti-frizz protection. I would say that this oil does all off that and leaves your hair silky soft, healthy shine, non greasy and with beautiful scent that is entirely delicate, subtle and yummy.
After I wash my hair, I put a Mythic Oil Masque and leave it for about 5 minutes. The mask alone is a thick as a body butter, has identical wonderful smell like the oil. When rinsed my hair, I noticed a big difference, my hair was smooth and soft and it is combed with finger. As always, I towel dry my hair and I used three pumps of oil.
After blow drying, and styling my hair with a flat iron I use again the Mythic Rich Oil, but this time just one pump. Here are the results, upper two photos are hair after ironing using a mask and oil before, and lower two photos are finish results with that one pump of oil at the end. They aren't photoshoped!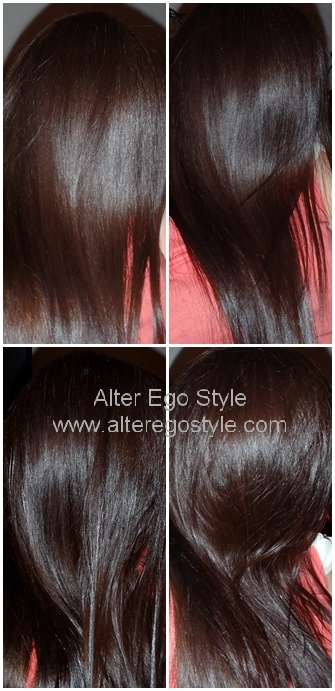 I would certainly recommend this oil as a great product to everyone who's hair is dry, with no definition, frizzy and with no control. Also I have to say that my friend has really oily hair, she tried this product, loved it and said that her hair wasn't greasy at all after using it.
In Croatia, you can find this L'Oreal Professionnel hair line in hair salons. Check for them here.
Martina, Alter Ego Style.

Profesionalni program L'Oreal nedavno je na tržište izbacio dopunu svoje kolekcije Mythic Oil te sada program sadrži 4 ulja (Mythic Oil, Mythic Oil mlijeko, Mythic Oil bogato ulje za suhu i neukrotivu kosu, Mythic Oil za sjaj obojene kose), Mythic Oil hranjivi šampon i masku.
Općenito volim profesionalne linije, iako su u pravilu skuplje, zauzvrat daju rezultate i potrebne su manje količine proizvoda pa samim time i traju dulje. Imala sam u planu otići frizeru i osvježiti vrhove koji su već lagano suhi, no kako bih isprobala ovo ulje u naj ne idealnijim uvjetima odlučila sam to još malo odgoditi.
Ulje za koje sam smatrala da bi najbolje davalo rezultate na mojoj kosi je Mythic Rich Oil. Ono dolazi u pakiranju od 125 ml te ga je najbolje upotrijebiti unutar 18 mjeseci od otvaranja. Sama ambalaža je plastična, asocira na zlato, s kvalitetnom pumpicom koja istiskuje odličan omjer količine proizvoda.
Ulje je prozirno, puno svježeg mirisa, sadrži ulje argana bogato vitaminom E i esencijalnim masnim kiselinama, te ulje rižinih mekinja koje duboko hrani i puni neukrotivu kosu te joj vraća zaglađenost.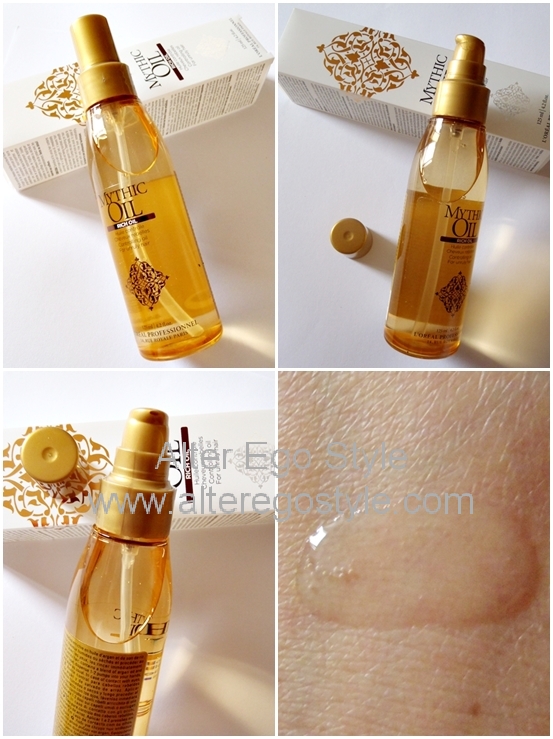 L'Oreal Professionnel navodi da ovo ulje prije feniranja vraća kosi mekoću za lakše stiliziranje i povećanu kontrolu, a nakon feniranja pruža dugotrajnu anti-frizz zaštitu, zaglađenost, kontrolu i duboko hranjenje. Ja bih dodala da ulje radi sve od navedenog i ostavlja kosu izrazito mekanom, sjajnom, mirisnom, laganom te ju ne masti.
Nakon pranja, na cijelu dužinu kose nanijela sam L'Oreal Prefossionnel Mythic Oil hranjivu masku, pustila sam ju da stoji oko pet minuta. Sama maska gusta je kao putar za tijelo, identičnog prekrasnog mirisa kao i ulje. Prilikom ispiranja već sam primjetila veliku razliku, kosa mi se pod prstima rasčešljavala, bila je mekana i glatka. Završila sam ispiranje mlakom vodom. Kao i inače, kosu sam zamotala u ručnik i pustila da upije višak vode dok sam nanosila hranjivo mlijeko za tijelo. Samo češljanje nije trajalo ni minutu.
Dajem svoje iskrene preporuke za ovaj proizvod svima s kovrčavom kosom, suhom kosom i kosom koja je nemoguća za rasčešljati! Mislim da se mokra kosa jako uništava rasčešljavam i iznimno cijenim proizvode koji rasčešljaju kosu sami od sebe jer je često jedini način na koji rasčešljavam kosu na mokro s balzamom i to traje i traje jer mi je kosa skoro do guze.
Prije sušenja na cijelu duljinu kose nanijela sam ulje, trebalo mi je tri doze pumpice. Posušila sam ju, ispeglala i nanijela još jednu dozu pumpice na suhu kosu. Na slici su rezultati nakon šušenja, gdje kosa već ima onaj zdravi sjaj od korišenja ulja i maske prije sušenja (gore), te finish, onaj dodatni nanos ulja za završni sjaj (dolje). Na slikama nije korišten photoshop.
Mythic Rich Oil u akciji: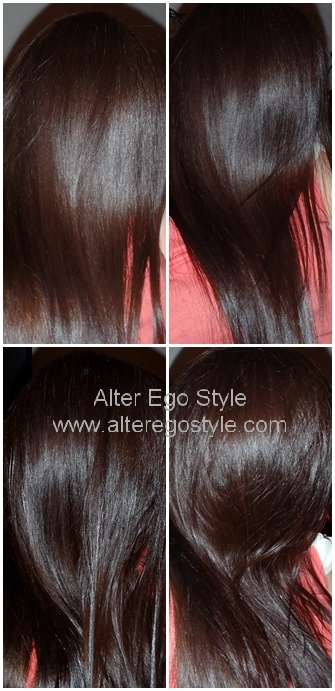 Imali smo malo druženje sinoć kod nas pa sam frendici rekla za ovo ulje i dala joj da proba. Prva reakcija je bila da ona nije za to jer joj se kosa jako brzo masti (prvi dan super, drugi tako tako, treći je kosa u repu) i ne podnosi ulja jer ju zamaste isti tren. Svejedno je na nagovor stavila ulje i jutros mi je u 09:11h poslala poruku: "možeš slobodno ovo ulje preporučiti za sve tipove kose. uopće nije masna kosa od toga".
Kompletnu liniju možete naći u određenim frizerskim salonima i po stručnoj preporuci izabrati ono što najbolje odgovara Vašoj kosi. Salone možete pronaći ovdje, a cijene proizvoda kreću se  otprilike od 109kn – 198kn.
Martina, Alter Ego Style