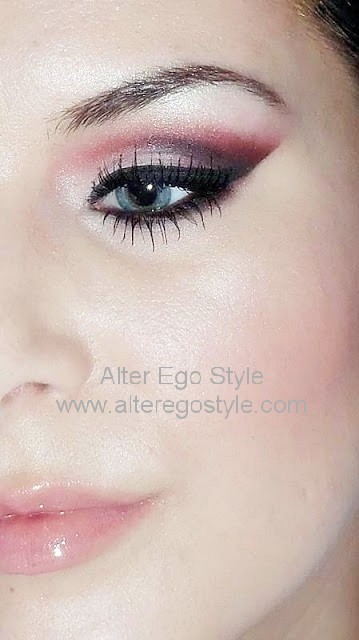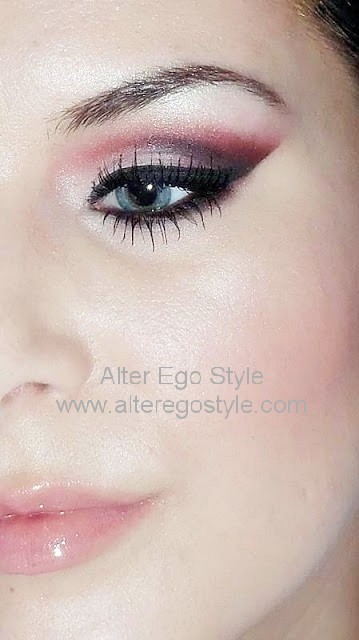 This is a very simple technique with which you can achieve an extreme precision.
If you want to do this Look, choose the shades that will best emphasize your eyes. My suggestions are here.
I used:
FACE
Foundation Lancome Teint Miracle No. 03
Concealer Estee Lauder Double Wear Stay-in-Place No. 01 light
Blush Pupa Luminous Touch Blush No.. 05
Illuminateur Pupa – Pupa Make Up Book Once Upon A Time
EYEBROWS
Brown shower cream in Sephora palette
EYES
(in order of use)
Shades range from Sephora Make Up Palette (F5, A1, H12, A6)
Essence black liquid eyeliner
L'Oreal Jet Set Black -Black Pencil
Pupa Polvere Di Luca No. 04 – Sequins
They're Real Benefit Mascara
LIPS
Alverde Lipliner No. 19 Terra
Dior SparkleShine Glitter Top Coat Lip gloss
If you are interested in more details click here.
Begin by perfecting the skin. Apply primer (if you desire), foundation and concealer as needed. Neutralize the redness on your face if you are using red shades of eyeshadows.
If desired, use clean fingertips to apply lid primer to the eyes to extend the life of your eyeshadows. Paste a Scotch tape or Sellotape to the desired line.
Follow by applying a red eyeshadow (or any other shade) to the lids using a soft eyeshadow brush. I used Sephora brush No. 25.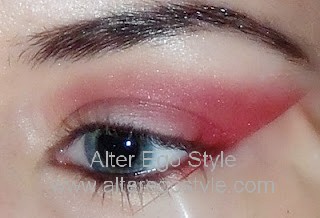 Apply a lighter shade in the inner corner of the eyelids, and a darker shade to the outer "V". I used Ivory and Black.
Line the upper lash line with black eyeliner (liquid, cream, what ever you like).
Remove the tape.
For a stronger definition, I love lining the lower inner rims with black liner and applying a dark shade to the lower lash line.
Apply a few coats of black mascara to the lashes and define the brows with brow powder and an angle brush. A smooth brow frames the face and opens the eyes.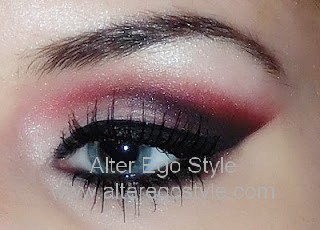 Apply a cream or powder blush to the apples of the cheeks and bring color to the face with a warm rose – nude shade of lip liner and follow with matching gloss, if desired.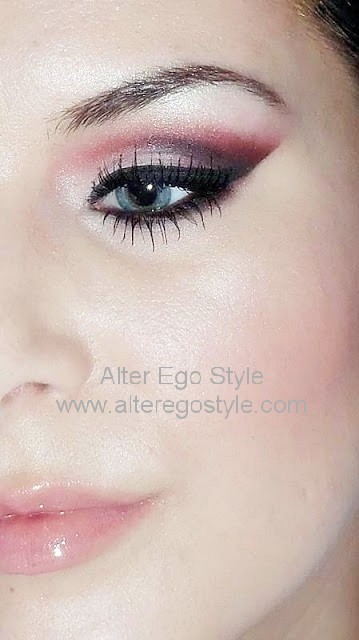 How do you like this tutorial? Have you tried to do something similar? Write your wishes, suggestions and criticisms.
Martina, Alter Ego Style
Smatram ovo izrazito jednostavnom tehnikom s kojom se postiže iznimna preciznost.
Nabrojati ću korištene proizvode, a ukoliko želite napraviti ovakav Look izaberite nijanse koje najviše istiću Vaše oči. Moje prijedloge možete pogledati ovdje.
LICE
Tekući puder Lancome Teint Miracle No. 03
Korektor Estee Lauder Double Wear Stay-in-Place No. 01 Light
Rumenilo Pupa Luminous Touch Blush No. 05
Pupa iluminator iz Pupa Make Up Book Once Upon A Time
OBRVE
Smeđi tuš u kremi Sephora Paleta
OČI
(prema redoslijedu korištenja)
Sjenila iz Sephora palete (F5, A1, H12, A6)
Essence crni tekući tuš
L'Oreal Jet Set Black crna olovka
Pupa Polvere Di Luce No. 04 – šljokice
Benefit They're Real maskara
USNE
Alverde Lipliner No. 19 Terra
Dior SparkleShine Glitter Top Coat sjajilo za usne
Ukoliko Vas zanima ova paleta pogledajte detaljnije ovdje.
Krenimo..
Na pripremljeno lice nanesite podlogu koja Vama odgovara pomoću koje ćete postići ujednačen i zdrav izgled Vašeg lica. Ukoliko se odlučite za crveno sjenilo kao ja potrudite se korektorom prikriti sva crvenila na Vašem licu kako se ona, zbog same nijanse sjenila, ne bi dodatno isticala.
Zalijepite scotch ljepljivu traku ili selotejp u željenu liniju.
Nanesite željenu nijansu sjenila u pregib kapka, bledajući ga skroz uz liniju ljepljive trake.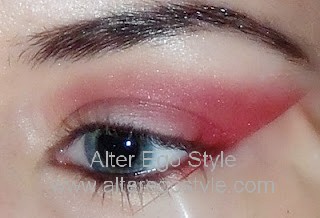 U unutarnji kut oka nanesite svijetlo sjenilo kako bi otvorili pogled, a u vanjski "V" oblik tamno sjenilo da postignete dubinu pogleda.
Povucite liniju tušem uz gornje trepavice i slijedite njome liniju ljepljive trake. Također nijansu tamnijeg sjenila možete nanijeti i uz liniju donjih trepavica koliko Vam to ljepljiva traka dopušta ako, kao što sam ja u ovom tutorialu napravila, želite okružiti cijelo oko. Ukoliko to ne želite koncentrirajte boje samo na gornjem kapku.
Odlijepite ljepljivu traku.
Na vodenu liniju stavite crnu olovku, a liniju donjih trepavica naglasite tamnim sjenilom.
Na unutarnji kut oka i ispod luka obrve nanesite svjetlucavo svijetlo sjenilo. Maskarom naglasite trepavice i popravite, ako je to potrebno, mjesto na kojem je bila zaljepljena ljepljiva traka jer ona zna skinuti tekući puder koji je ranije nanesen.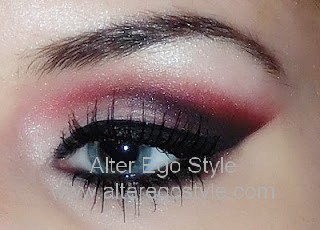 Nanesite rumenilo, iluminator, poigrajte se usnama i to je to.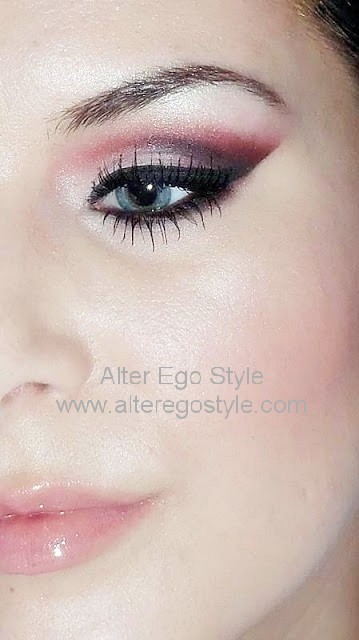 Kako Vam se sviđa tutorial? Jeste li probali napraviti nešto slično? Napišite svoje želje, sugestije i kritike.
Martina, Alter Ego Style