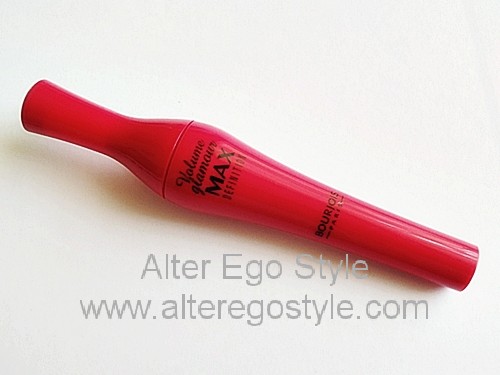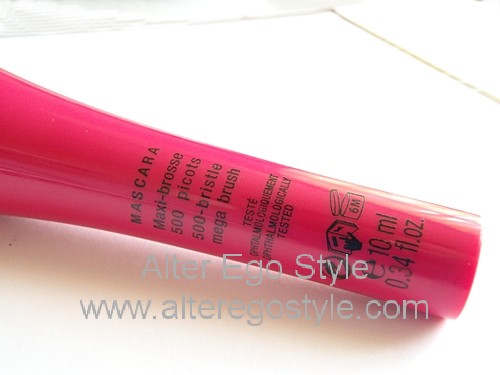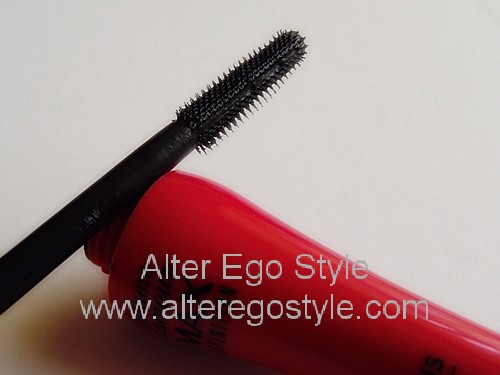 I divide my expectations for mascaras in several categories:
1. The most important thing for me is that mascara does not smudge to the upper and lower eyelid because there is nothing worse than a scenario of non stop checking and erasing smudged mascara!
With this mascara you will not have such problems, you don't have to worry that it will 'slide' from your lashes to your dark circles, or that mascara will smudge on the upper eyelid. Your lashes will look identical at the end of the day, as they looked in the morning after application. I would also say that mascara gives the impression that it is waterproof and it is a bit hard to remove.
My rating 10/10
2. The separation of the lashes and upgrading!
The brush of this mascara is very big, with firm and small bristles. It does a good job in separating the lashes. As I was testing the mascara I wasn't sure do I or don't I like this brush. At the end, I don't like two things, when I apply the mascara, every time I end up with smudged eyelids. With this problem you can do two things, clean the eyelids or you can apply mascara lightly away from the lashes, which will reduce the volume effect. The second complaint refers to the product itself in terms of it's density and impression that the brand new mascara is already a bit dry. I will try to once again look this note in a few months and rewrite if I change my mind.
My rating 7/10
3. The intensity of color!
I'm in love with mascaras that have strong intensity of color. I usually put one layer and I just love when my lashes are thick, visible and very long. Black mascara that I tried was well pigmented and completely satisfied my desires.
My rating 10/10
4. Extending eyelashes!
This mascara will give you a certain voluminosity of the lashes but, at the same time, it will not extend the lashes.
My rating 6/10
5. The volume of eyelashes!
As the name of this mascara says, in only one coat, you will have really glamour volume lashes. Also you can achieve perfectly defined lashes.
My rating 10/10
The first coat of mascara on the eyelashes:
The second coat of mascara: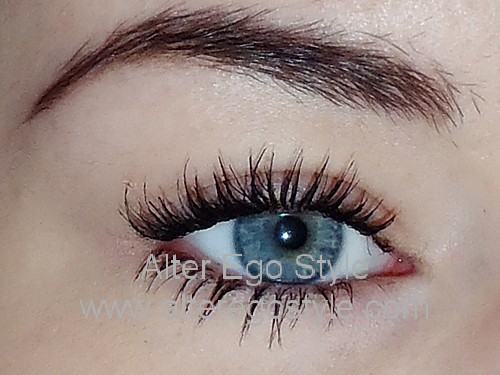 The content is 10ml and it is best to use in 6 months after opening. Price is near 9 euros.
Conclusion
I think this mascara perfectly fits into the evening make up. It is extremely resistant, perfectly pigmented and gives the result of the dramatic look to your lashes. If you have a good mascara that lengthens your lashes apply a first coat of that mascara for an extension, and for second coat apply this mascara – I believe that will give you an extraordinary eyelashes.
Did you try this mascara? Was this review helpful to you?
Martina, Alter Ego Style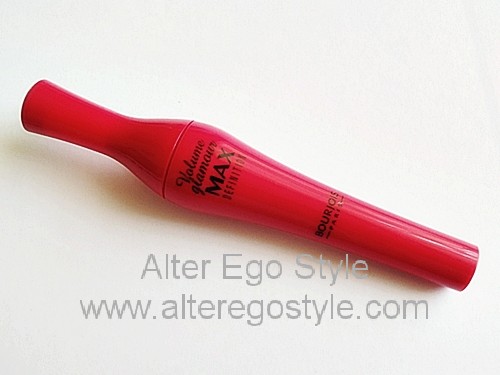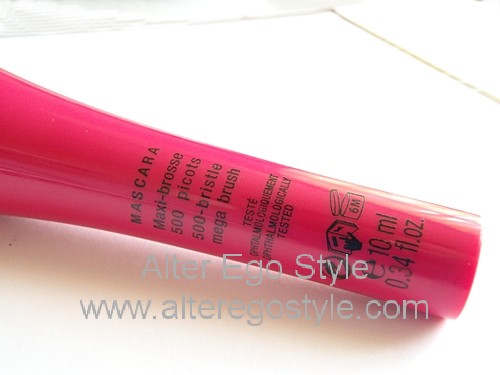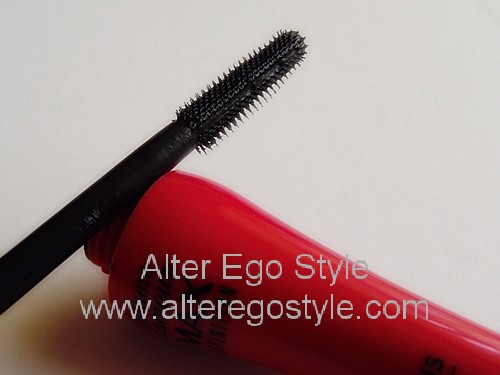 Očekivanja od maskare dijelim u nekoliko kategorija:
1. Jedna od meni najbitnijih stvari kod maskare je da se ne preslikava na gornji i donji kapak jer mi nema gore od scenarija non stop provjeravanja i brisanja preslikane maskare!
S ovom maskarom takvih problema nema, ne trebate brinuti da će 'skliznuti' s Vaših trepavica na podočnjake, niti da će se oslikati na gornji kapak. Maskara je postojana cijeli dan i izgleda identično na kraju dana kao što je izgledala ujutro nakon nanošenja. Također želim istaknuti da maskara daje dojam kao da je vodootporna zbog samog načina na koji se skida – dosta teže od drugih ne vodootpornih maskara.
Moja ocjena 10/10
2. Razdvajanje trepavica, slojevitost i nadogradnja!
Četkica ove maskare je dosta velika, s čvrstim i malim dlačicama, te čini dobar posao u razdvajanju trepavica. Dok sam testirala maskaru nikako se nisam mogla odlučiti da li ju zapravo volim ili ne. Na kraju, želim istaknuti dvije stvari koje su me zasmetale. Nanoseći maskaru, svaki put ona bi se razmuljala svuda po kapcima zbog velike četkice. Taj problem možete popraviti na dva načina – štapićem za uši očistite mrlje, koje zaista idu lako dolje bez ikakvog dodatnog sredstva za skidanje šminke, ili možete nanositi naskaru lagano prislonjenu na trepavice, čime ćete smanjiti postizanje glamuroznog volumena. Drugi prigovor se odnosi na sam proizvod u pogledu gustoće i toga da nova maskara djeluje već s prvim otvaranjem napola suha. Pokušati ću još jednom pogledati ovaj osvrt kroz par mjeseci i napisati da li će se korištenjem brzo sušiti i koliko će dugo trajati.
Moja ocjena 7/10
3. Intenzitet boje!
Volim da je maskara intenzivne boje iz razloga što najčešće stavljam jedan sloj i što jednostavno volim guste, uočljive i duge trepavice. Crna maskara koju sam probala je dobro pigmentirana i zadovoljava u potpunosti mojim prohtjevima.
Moja ocjena 10/10
4. Produljenje trepavica!
Ova maskara nije stvorena da produlji Vaše trepavice. One se neće doimati kratkim niti će se prividno smanjiti, već samo nećete imati onaj dojam duuuuugih trepavica.
Moja ocjena 6/10
5. Gustoća trepavica!
DA, kao što i samo ime maskare kaže ona je stvorena da Vam pruži glamuroznu gustoću trepavica.
Moja ocjena 10/10
Prvi nanos maskare na trepavice:
Drugi nanos maskare: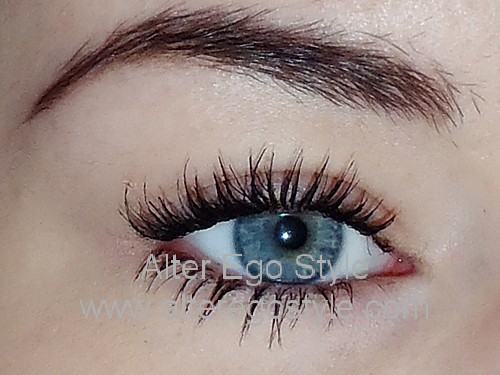 Pakiranje sadrži 10 ml, a rok trajanje je 6 mjeseci od otvaranja. Cijena, ovisno od mjesta prodaje je između 63,90 – 69,90 kuna.
Zaključak
Mislim da se ova maskara savršeno uklapa u večernje look-ove i da ću ju u te svrhe najviše i koristiti. Izuzetno je otporna, dugotrajna, savršeno pigmentirana i daje dramatičan izgled Vašim trepavicama. Trik kako postići savršene trepavice – ako imate maskaru koja savršeno produljuje Vaše trepavice, nju nanesite u prvom sloju, a tek s drugim slojem podarite Vašim trepavicama potrebnu gustoću koristeći ovu maskaru.
Jeste li probali ovu maskaru? Da li Vam je korisna ova kritika?
Martina, Alter Ego Style