Tomorrow I travel to Amsterdam for a few days, and as soon as I get back, at the same day, I go to a wonderful, little, deserted island in the Adriatic Sea – Sansego. The whole day I spent in packing things and the greatest joy I had is when I packed my bikinis and nail polishes. So here they are..
I absolutely adore this mix & match bikini, both bottom and top are from Calzedonia, and when you're tan you look a-m-a-z-i-n-g wearing it. Just imagine, vanilla top with gold sparkles and coral red bottom on your bronze skin.. The nail polishes are Catrice Goldfinger, Catrice Sand Francisco, Catrice C01 A Woman's World, Essence top coat and Yolizul Fashion No. 699.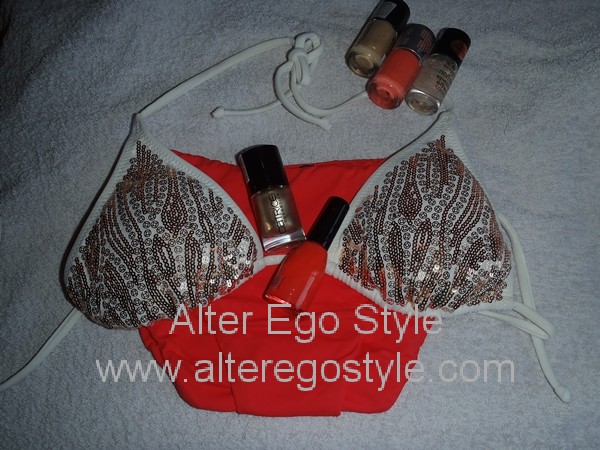 Purple bikini from Victoria's Secret. Also, absolutely amazing bikini, especially if you like to visually enhance your breast. I like to mix & match top with vanilla bottom from Calzedonia. The nail polishes that I choose for this combination are Sephora Let's dance, Catrice Goldfinger and Essence op coat.
White bikini, for me, is A Must Have. So this one is my favorite white bikini that I have. I purchase it for maybe 100 kn or less (13 euros) at Tally Weijl what was A Big surprise because I never bought anything at that store. Three nail polishes are Stormy Pink and Lime cocktail, both Sephora, and also Catrice Goldfinger.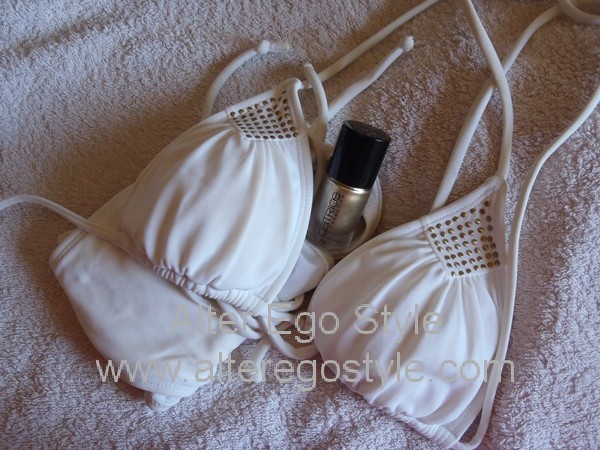 Black triangle bottom and straight cut top BIPA bikini with neon colors details. Love it! Sephora Lime cocktail and Red berries smoothie, Catrice  Don't feed the birds and Yolizul Fashion No.774.
The last one is a Calzedonia bikini that I wear when I'm pale. It's a typical triangle bikini, but the texture and the sample is phenomenal. Nail polish is Sephora Red berries smoothie.
Most often, where do you buy your bikini? What shape is your favorite?
Martina, Alter Ego Style.