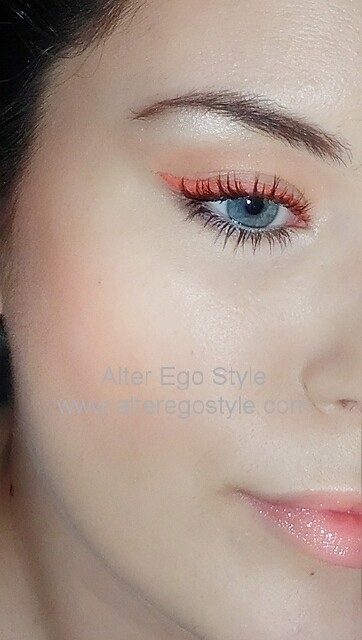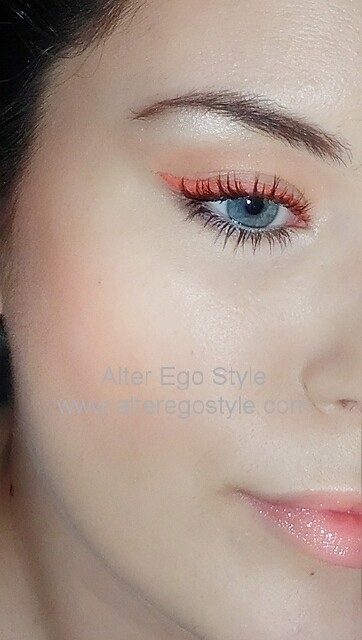 To recreate this look, you will need a neutral, nude eyeshadow to give a definition to your crease, orange eyeliner (if you don't have one, use water and orange eyeshadow, or mix of orange, yellow, and red eyeshadows to get a shade that suits your eyes best), a white eye pencil, a highlight eyeshadow for inner corners and brow bones, brown eye pencil and a black mascara.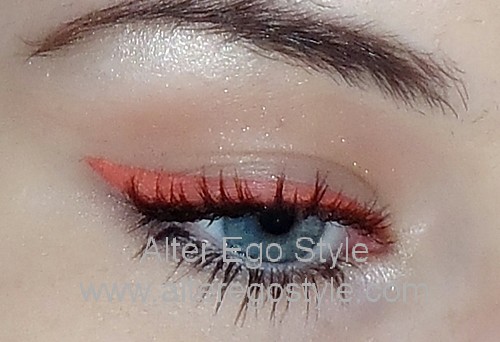 Product that I have been using to create this look are:
FACE:
Bourjois Flower Perfection foundation No. 52 Vanilla
Bourjois Healthy mix concealer No. 51 Eclat claire
Sephora matte eyeshadow No. 15 Suede – for blush
EYES:
Sephora matte eyeshadow No. 15 Suede – crease
L'Oreal Color Infailllible No.002 Hourglass Beige – Inner corners, brow bone
Sephora eyeshadow No. F6 with F5 and E6 (look here)
Chanel le Crayon Khol Blanc – white eye pencil
Artdeco Waterproof eyeliner No. 11
Benefit They're Real Black Mascara
LIPS:
Neutralized with the concealer, and on top lipstick by Catrice No. 050 Princess Peach
EYEBROWS:
Catrice Eyebrow Stilist No. 020
How I make an eyeliner with an eyeshadow? A drop of water + eyeshadow(s) mix them together on your hand.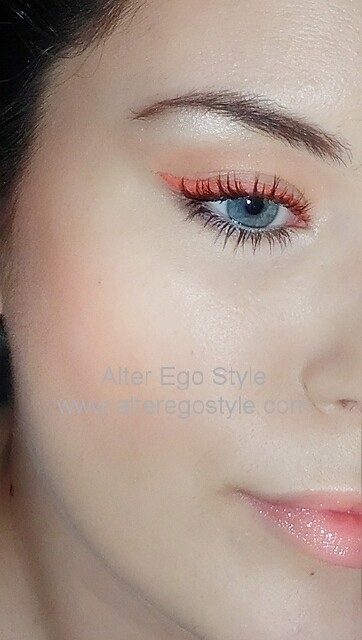 Kako bi same napravile ovaj look, potrebno Vam je neutralno sjenilo za pregib kapka, sjenilo koje će posvijetliti Vaše unutarnje kuteve oka i luk ispod obrva, zatim bijela i smeđa olovka za oči, crna maskara i narančasti, neonski tuš za oči. Ukoliko nemate takav tuš za oči, možete upotrijebiti narančasto sjenilo, mješajući ga s vodom. Ja sam koristila mješavinu tri različita sjenila (žuto, crveno i narančasto) kako bi dobila nijansu najsličniju željenoj.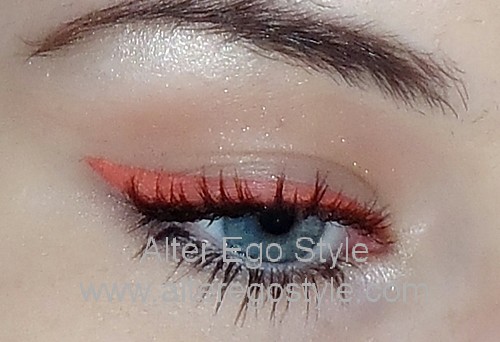 Korišteni proizvodi:
LICE:
Bourjois Flower Perfection tekući puder No. 52 Vanilla
Bourjois Healthy mix korektor No. 51 Eclat claire
Sephora mat sjenilo No. 15 Suede – kao rumenilo
OČI:
Sephora mat sjenilo No. 15 Suede – u pregibu
L'Oreal Color Infailllible No.002 Hourglass Beige – unutarnji kutevi oka, luk ispod obrve
Sephora eyeshadow No. F6 with F5 and E6 (pogledaj ovdje)
Chanel le Crayon Khol Blanc – bijela olovka za oči
Artdeco Waterproof eyeliner No. 11 – smeđa olovka za oči
Benefit They're Real Black Maskara
USNE:
Neutralizirane korektorom
Catrice ruž za usne No. 050 Princess Peach
OBRVE:
Catrice Eyebrow Stilist No. 020