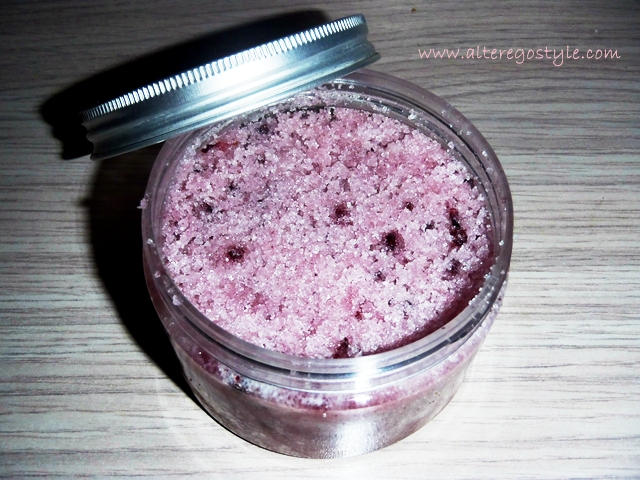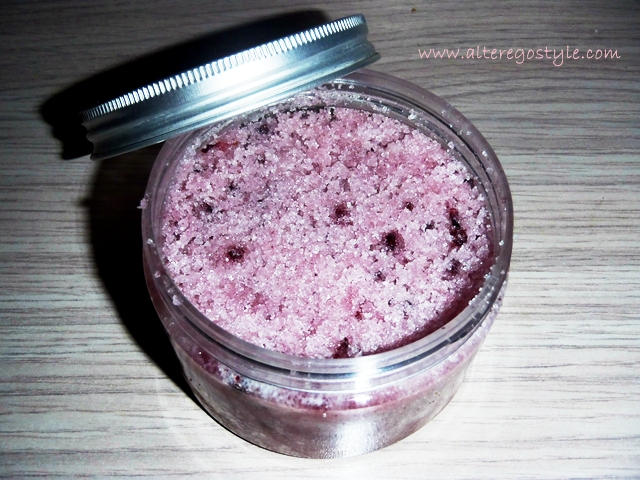 Peppermint is ideal for the holidays, warm days and cooling down yourself. Scrubbing with this recipe will make you feel refreshed and invigorated–not to mention it's delightfully purple (or any color that you like).
Ingredients:
2 cups white granulated sugar
1/4 cup almond oil, macadamia oil, olive oil, coconut or any other that you have Teaspoon of Shea Butter virgin
10 drops of Peppermint essential oil
Blackberry, raspberry, pomegranate juice or red food coloring (your choice of color)    
Mix Shea butter, oil and essential oil in one cup (I used small glass), it will take a little time (use a wood spoon to do that if you have it).
Squeeze Blackberry and add to your mixture. Add that mixture into the granulated sugar.
If you feel like there doesn't seem to be enough oil, you can add more, but don't overdo it and let the mixture get too oily. Add more sugar until it reaches your desired touch. If you don't want to use real fruit, but still want the pink color, add a few drops of red food coloring or pomegranate juice. Mix together until color is uniform throughout.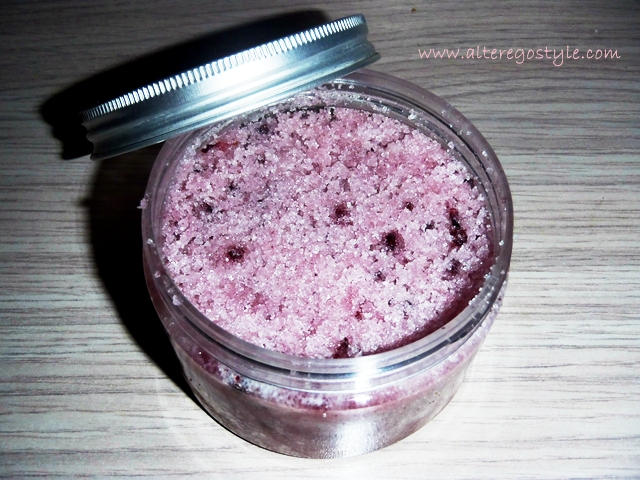 Scrubbing – washing – dry skin
Enjoy!
Martina, Alter Ego StylePepermint je idealan za toplije dane, odmor i ljeto kako bi se ohladili. Eterično ulje peperminta lagano hladi i njeguje kožu te blago potiče cirkulaciju zbog čega je ovaj piling odlična priprema koži za danje tretmane protiv celulita. Pilingirajući tijelo ovim receptom osjećati ćete se relaksirano, nahranjene kože i okrijepljujuće, a obojati ga možete u boju koja vam je najdraža (trudite se da bude prirodna).
Sastojci:
2 šalice šećera1/4 žlice baznog ulja badema, makadamije,… (ja sam koristila oko 25 ml Primavera Organic Macadamia Nut Oil)
Žličicu shea maslaca10 kapi eteričnog ulja Peperminta
Nekoliko borovnica, kupina, malina, nara ili jestive prirodne boje (koristila sam 3 kupine)
Sve o eteričnim uljima možete pročitati ovdje.
U šalici ili čaši pomješajte maslac, ulje i eterično ulje, trebati će vam 2-3 minute da se maslac krene topiti  u ulju.
Izgnječite voće (u mom slučaju 3 veće domaće kupine) i dodajte ih smjesi ulja koju ste prethodno napravili. Sve zajedno umješajte u posudu sa šećerom. Dobro je da u posudu stavite samo pola količine šećera kako bi lakše sve izmješali.
Dodajte preostalu količinu šećera i ako vam se čini da nedostaje ulja, dodajte ga, ali nemojte pretjerati jer ne želite previše uljnu smjesu. Ako ne želite koristiti voće ili ga nemate, a želite obojani piling, uvijek možete koristiti jestivu boju, primjerice onu za kolače.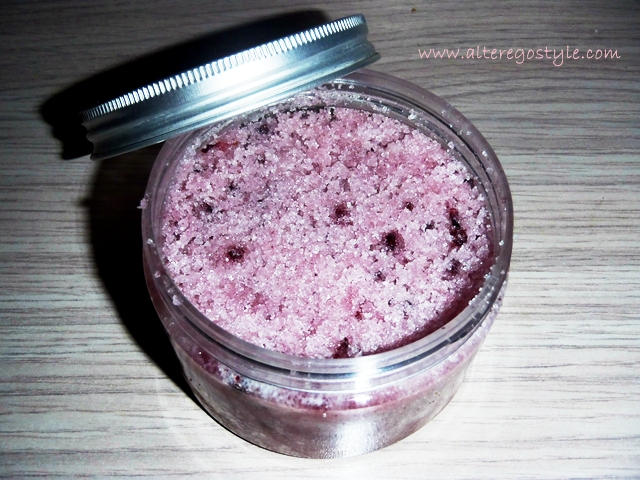 Kako to izgleda na koži (pilingiranje – ispiranje – suha koža nakon pilinga):
Uživajte!
*obzirom da ovaj piling nema konzervansa, potrošite ga unutar 3 tjedna i držite na hladnom – radije radite manje količine češće, nego velike pa da propada  
Martina, Alter Ego Style