Basically,  pigment is a highly concentrated loose, very vibrant color powder. There are many different companies that make them, they come in different color, texture, finishes,… and there's also many different ways that you can use them. Pigments can accentuate and enhance your make up and similarly ruin your whole look too, hence one must use pigments carefully and in the right way. You can use pigments as highlighting powder, bronzers, blush or contouring powder. How to use your pigments in full potential? Keep reading 🙂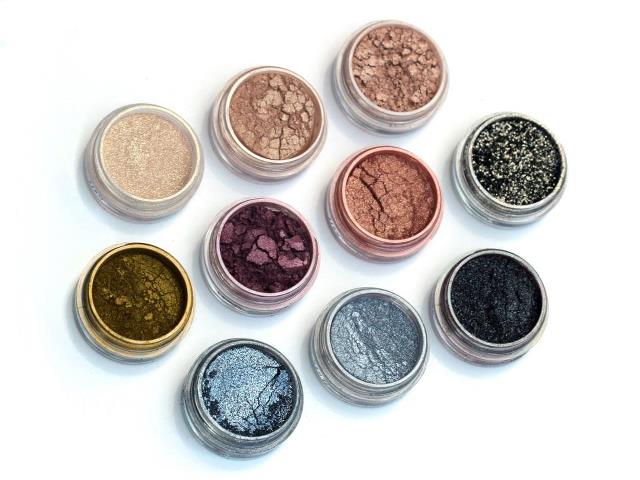 Pigmenti su vrlo koncentriranih, živih boja i najčešće dolaze u praškastoj teksturi. Postoji mnogo različitih tvrtki koje ih proizvode, dolaze u različitim bojama, teksturama, finišu,… a ono što ih toliko ističe su upravo mnogi načini na koje ih se može koristiti. Pigmenti mogu istaknuti vaš makeup, odvesti ga u novu dimenziju, ali isto tako i potpuno uništiti kompletan make up stoga ih se treba koristiti pažljivo i na pravi način. Od pigmenata možete napraviti vlastiti brončani puder, rumenilo ili oslikavati u prahu. Zanima vas kako koristiti pigmente u punom potencijalu? Nastavite čitati 🙂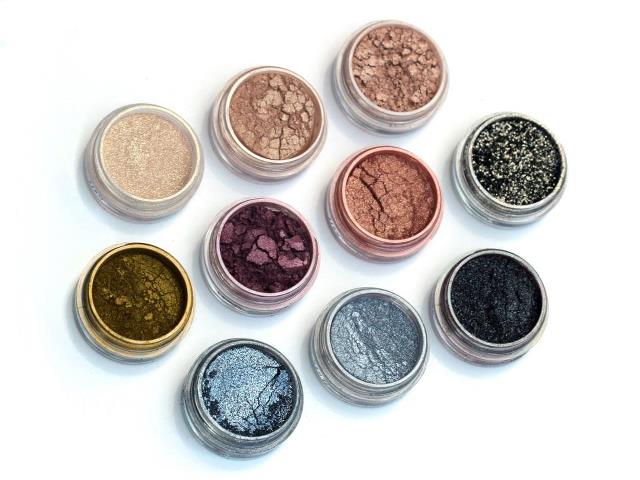 How to use pigments
1. Using pigments with a mixing media – like foundation, lip gloss, nail polish, hair products, water, Vaseline..
Chose a pigment that you want to use, take out the small amount of pigment on a clean surface. Depending on what mixing media you decided to use start with mixing the pigment with media.
For example, if I want to use a water for my mixing media – I like to get the brush wet instead of the actual product, and then from here (wet brush) pick up some pigment and apply where I want. On the picture below you can see the intensity in color with a mixing media and without (pigment on it's own).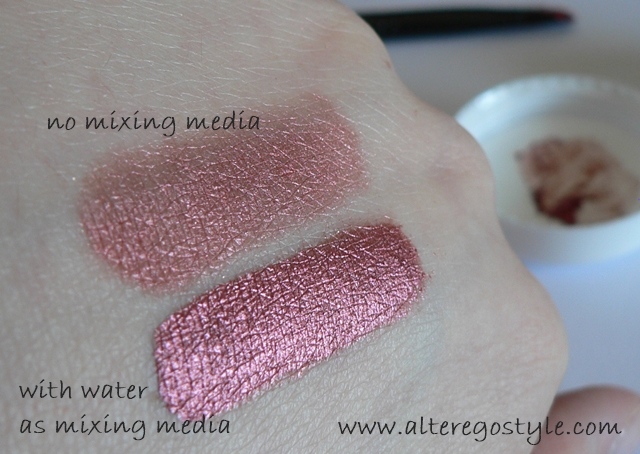 You can also mix your pigment with the eyeliner mixing media or even mascara mixing media to get new, vibrant color.
You can also mix your pigments with a moisturizer of foundation so you can easily do a dewy look on you skin without purchasing any new product – perfect tip for summer, right?

For a lip gloss it's a pretty much the same – take out the small amount of pigment on a clean surface then mix with clear or colored lip gloss and you made your own lip color.
Now with nail polish and using your pigment it gets a little tricky with that. You can use a clear nail polish, a colored one.. If you bought a nail polish just for this you should look for nail polishes that have two little balls in it. You can always put your pigment directly into the bottle and then roll it to mix up the color. Otherwise, you can mix your nail polish by pulling out some of the nail polish on clear surface, mix with pigment and than apply it with nail brush. Another great way is to use a clear or colored coat of nail polish on your nails, and before it's dries just tap some pigments on it (with old make up brush, or kids brush) dust off the extra and you can have real metallic finish nails.
This is a picture of white nail polish and glitter, and the tutorial is here. With pigments it's the same story. Sorry for bad photo.
Pigments on hair, why not. Take some hair product in your hand (wax, gel, mousse,…) mix with vibrant pigment and apply to your hair. Be aware that this is easier for people with shorter hair, it can transfer into your clothes so chose where to put pigments. Good part is that it washes when shampooing your hair.
2. Using pigments without mixing media
What it means is that you can use any pigments on their own. For example, you can use pigments over black eyeliner or black eyeshadow for them to stand up more. I love to use pigments on beauty shoots as you can see on below, I used orange pigment over orange lip liner, and red pigment over MAC Ruby Woo. You can highlight your cheek bone, collarbone, under your brow bone,…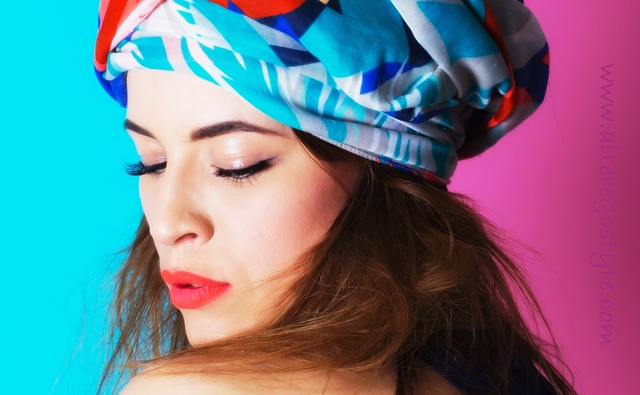 Some important tips for using pigments:
• Never forget to prep your face or eyes with a primer before using loose pigments.
• Get done with your eye make up first, so that the rest of the make up is not ruined with the pigment fallout.
• Mind the layers and applications. Pigments pack a lot of color, so be careful – pigments can clump too.
Hope you'll get some ideas here!
Martina, Alter Ego Style.
Kako koristiti pigmente
1. Korištenje pigmenata s medijem za miješanje – kao medij možete izabrati tekući puder, losion za tijelo, sjajilo za usne, lak za nokte, proizvode za kosu, vodu, vazelin,...
Izaberite pigment koji želite koristiti, izvadite malu količinu pigmenta na čistu površinu. Ovisno o tome što ste izabrali kao medij za miješanje, započnite s miješanjem pigmenta i medija.
Na primjer, ako želim koristiti vodu kao medij – volim pošpricati kist s vodom umjesto samog proizvoda, a zatim mokrim kistom pokupiti pigment i nanijeti ga gdje želim. Na slici ispod možete vidjeti intenzitet boje s miješanjem u mediju i bez miješanja (pigment nanesen samostalno). Nemojte mokrim kistom pokupiti pigment direktno iz njegove posudice već ga izvadite na čistu površinu i na njoj miješajte pigment.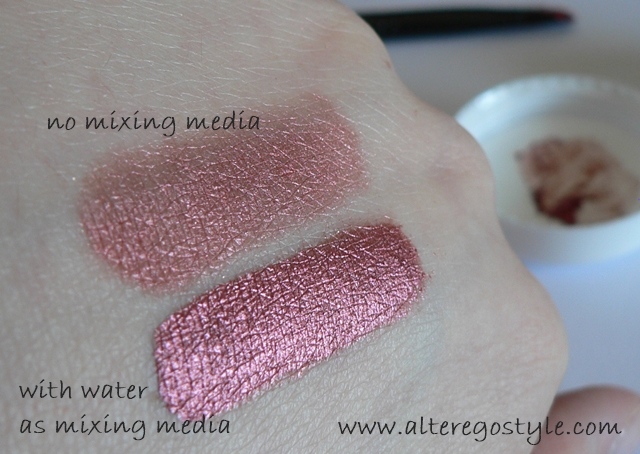 Možete miješati svoje pigmente s eyelinerom i bijelom maskarom kako bi dobili nove, jarke boje.
Također možete miješati svoje pigmente s hidratantnom kremom ili tekućim puderom te na taj način vrlo lako postići svjež dewy izgled vaše kože – idealno za ljeto, zar ne? Pigmenti u kreme za sunčanje, i to je moguće ako baš želite.
Za sjajilo je skoro isti postupak – izvadite malu količinu pigmenta na čistu površinu pomiješajte ga s prozirnim sjajilom ili sjajilom u boji i u tren ste napravili novu mazalicu za usne.
S lakom za nokte i pigmentima može biti malo zeznuto. Možete koristiti proziran lak za nokte ili onaj u boji. Ako ste kupili lak za nokte samo da bi napravili svoj lak za nokte pomoću pigmenata potrudite se da je u bočici s one dvije male kuglice koje će dobro promiješati pigmente s baznim lakom. Stavite pigment izravno u bočicu laka za nokte, a zatim ga protresite dok se pigment ravnomjerno ne izmiješa. Inače, možete umiješati svoje lakiće izvlačenjem određene količine laka za nokte na čistu površin, pomiješati ga s pigmentom, a nanijeti ga na nokte s četkom za lakiranje. Još jedan odličan način korištenja pigmenata s lakovima za nokte je da nanesete sloj prozirnog (ili u boji) laka na nokte, a prije nego što se osuši samo nanesete neke pigmente na njega (pomoću starog make up kista, ili dječjeg kista za vodene boje i sl.).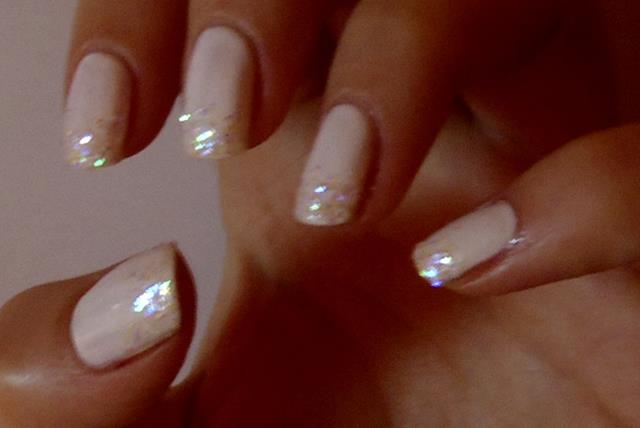 Pigmenti na kosi, zašto ne. Uzmite malo proizvoda za kosu i stavite ga na dlan (vosak, gel, pjenu, …), zatim pomiješajte s jarkim pigmentom i nanesite prstima na svoju kosu. Budite svjesni da je to lakše za osobe s kraćom i svijetlom kosom. Također, pigment se može preslikati na odjeću pa razmislite gdje ćete staviti pigment. Pozitivno je da će se boja isprati prvim šamponiranjem, a promijena nastaje u trenu.
2. Korištenje pigmenta bez medija za miješanje
Ovo je najjednostavniji način jer ih nanosite samostalno, ali imajte na umu da se radi u praškastoj teksturi i da prah pada. Na primjer, možete koristiti pigmente na crnom eyelineru, na crnom smokey eye-u, na bijeloj podlozi, samostalno, kao highlighter,... Volim koristiti pigmente na modelima, ali i osobno na dnevnoj bazi. Na slijedećim slikama možete vidjeti pigmente na usnama Barbare Radulović (mat koraljno-narančasti) i Rajane Radosavljev (MAC Ruby Woo ruž na koji je nanesen crveni pigment), kao i obojani smokey eye, zeleni tuš,…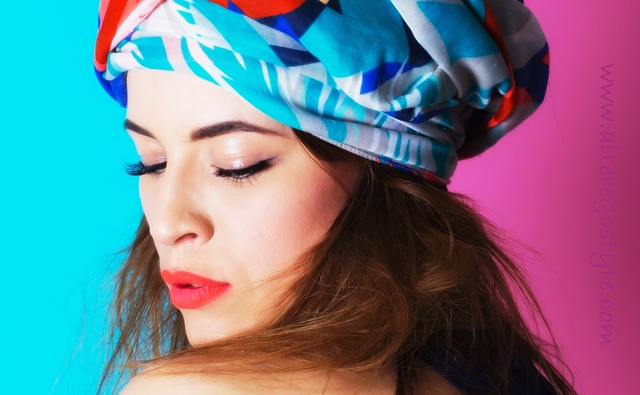 Napravite svoj pigment
Zašto ne bi pomiješali npr. plavi i crveni pigment i dobili vašu ljubičastu nijansu? Žuti i ljubičasti daju smeđe, ako dodate još par zrnaca crvene imate topliju smeđu… Mogućnosti su bezbrojne, a kreativnost nema granica!
Neki važni savjeti pri korištenju pigmenata:
• Nikada ne zaboravite pripremite vaše lice ili oči s primerom prije korištenja pigmenata
• Napravite prvo make up oka ukoliko koristite pigmente kao sjenila, tako da ostatak make up-a nije uništen s pigmentima koji padaju.
• Pazite na slojeve pri aplikaciji – pigmenti su vrlo koncentrirani, puni boje, pa budite oprezni – ako ih stavite previše uvlačiti će se u pregibe.
Nadam se da ste dobili neke ideje!
Martina, Alter Ego Style.